Sunday, September 7, 2003... Greetings from San Francisco, where right on cue, the day of sunshine ended and the fog began. I got here at roughly the expected time, but over a totally different route than I had planned.

As of last night -- indeed, as of 8:30 this morning -- I was planning to take the coastal route from Monterey north to San Francisco. But about 10 minutes into the day's drive, I decided I didn't really want to see the coast; instead, I wanted to visit Gold Rush country. For easterners, this is roughly like starting with a plan to drive from New York to Boston via Newport and Plymouth, then re-routing to get there via Burlington, Vermont.

The California terrain didn't help. All major roads in California angle northwest-to-southeast. In the central part of the state, the biggies are Route 1, along the coast; US 101, on the other side of a mountain; I-5, 40 miles east of 101; and old US 99, 40 miles east of I-5. Switching from US 101 to old 99, which I would need to do to reach Gold Rush country, thus required traversing about 80 miles of empty land on sleep-inducing two-lane roads. Good thing my supply of Pepsi One held up...

I finally turned east toward the Gold Rush towns at Modesto. George Lucas's memories of cruising the streets of Modesto as a teen inspired American Graffiti, but the town now has "No Cruising" signs on all its main streets. Perhaps in response, Lucas has essentially given up directing human beings.

With over 100 candidates running for Governor (including a college classmate of mine who grew from a snotty little rich boy to an "My Money Above All Else" libertarian whose big issue is reducing cigarette taxes so his family business will prosper), I had expected to see a few bumper stickers, but the first political bumper sticker I saw anywhere on today's drive touted Dennis Kucinich's Presidential campaign.

DENNIS KUCINICH? So long as Al Sharpton's in the race Kucinich isn't the least qualified candidate, and so long as George W. Bush is in the race he's not the most dangerous candidate, but it's hard to picture anyone outside his immediate family slapping a bumper sticker on his car, especially with so many worthy and unworthy locals to choose from.

Reached the appropriately-designated Highway 49, the route through Gold Rush country, a few miles from Sonora. Sonora not only has the requisite 150-year-old wooden buildings downtown, but if that's not old enough to satisfy the tourists is also advertising a jousting tournament for next weekend. If only I didn't have a plane to catch...

Next came Columbia State Historic Park, where autos are excluded from a half-dozen downtown blocks which are maintained as a living history museum from the 1850s. In addition to the stagecoach ride depicted in the photo below, visitors can tour restored buildings, meet costumed craftspeople, and try their luck panning for gold from one of the original gold-bearing streams.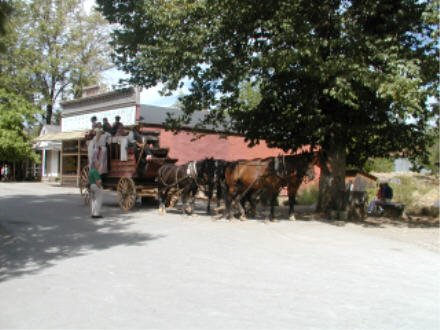 A few miles up the road, the town of Angels Camp was the setting for Mark Twain's story, "The Celebrated Jumping Frog of Calaveras County." The locals hold an annual frog-jumping contest each May. The nearby town of Twain Harte is named jointly for Mark Twain and Bret Harte.

As I drove, I tried to catch the day's NFL scores, but wound up shaking my head at the advertisements on all the radio highlight shows. Best of all: a nonprescription, free-sample-available "natural male enhancement" pill, whose copywriter struggled with euphemisms for "your penis will be larger and more responsive than ever before." While a significant number of hardcore NFL fans apparently worry that their penises are too small, I strongly suspect that this is not the reason many of them aren't getting laid.

The birthplace of the Mother Lode is marked by the Marshall Gold Discovery S.H.P. near Coloma. On January 28, 1848, James Marshall struck gold while building a sawmill for his employer John Sutter along the banks of the American River. Both men nonetheless died penniless. Alas, I didn't have time to visit Malakoff Diggins S.H.P., site of the Gold Rush's greatest ecological disaster.

Realizing that gold was heavier than all the other material around it, inventive minds concocted a way to get the gold without all the backbreaking labor: hydraulic mining,. which uses pressurized streams of water. Enthusiastic hydraulic miners washed away half the side of a mountain to collect the gold trapped therein...sending so much silt downstream that it threatened to fill in San Francisco Bay.

My trip was less eventful. I turned west, followed I-80 across the Bay Bridge and into downtown San Francisco, then spent 3-1/2 hours talking to an old friend with whom I'm staying. I've revised tomorrow's drive, too: instead of doubling back to take in a game at the Oakland Coliseum tomorrow night, I'll drive to Sacramento and head straight north on old Route 99. Now I just need to reach the Canadian border in time to double back for a ballgame in Seattle Wednesday night...



---
Go to the next day
Back to NEWS FROM THE ROAD menu
Back to ROADSIDEPHOTOS.COM home page