Monday, September 8, 2003... Greetings from Yreka, California, 20 miles south of Oregon, land of $2.23/gallon regular gas. (This is only about a dime more than I've been paying elsewhere in the state.) Alas, there's no Yreka Bakery in the phone book; if there were, it would have one of the few palindromic business names.

After last night's socializing, I started today by returning to Sacramento for the drive north on old 99. My first decision was which old 99: between Sacramento and Red Bluff, it was split into 99-E and 99-W. I opted for 99-W, which parallels I-5 over this distance. The layout was all too familiar: a railroad, telephone poles, the two-lane old road, and the Interstate less than a mile away. It could have been Illinois Route 66, or the Lincoln Highway across Nebraska.

But neither of those roads traverse quite as many fruit and vegetable fields. I passed trucks hauling two trailers-ful of fresh tomatoes -- enough for every American soldier stuck indefinitely in Iraq to have thrown one at Donald Rumsfeld if given the chance. Other farms grew rice, olives and almonds. The Central Valley holds the heat so well that there were stands of palm trees as far north as Corning, more than an hour beyond Sacramento, which is the same latitude as Indianapolis or Denver.

My guide to the route was a self-published book called That Ribbon of Highway, which takes old 99 from Sacramento to the Oregon line. A companion volume goes south to Mexico...and very conveniently for me, the third in the series, covering 99 in Oregon and Washington, was published just this spring. They're especially useful for finding the old roads in places where the Interstate has replaced some, but not all, of the old roadbed, with interesting bridges and bypassed sections within easy reach.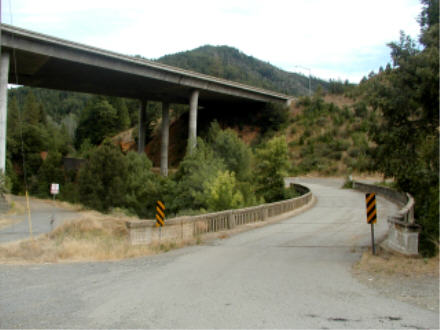 North of Redding, home to one of the last surviving roadside restaurants to begin life as a giant concrete orange, the route passes through the Whiskeytown-Shasta-Trinity National Recreation Area. The area is named for a Gold Rush mining town, a dam and lake, and a wilderness area, not for a defunct alt-country band, a second-tier soft drink and the site of the first atomic bomb test. Much of original Route 99 was submerged when Lake Shasta was created. But the dominant natural feature on the landscape is Mount Shasta, southernmost of the Cascade Mountains.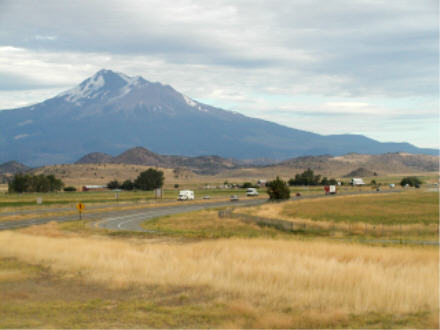 Like Washington's Mount Rainier, Mount Shasta simply looms over everything for fifty miles around. It rises 14,162' above sea level, and 12,000' feet above the surrounding terrain. (The photo above was taken from about 25 miiles away form the base of the mountain.) It's visible from south of Redding to the Oregon border. And like Rainier, Mount Shasta is a volcano which hasn't erupted in a while. Mount St. Helens, another of the Cascades peaks, shows what can happen when it does.

Tomorrow: to, and through, Oregon. Later!


---
Go to the next day
Back to NEWS FROM THE ROAD menu
Back to ROADSIDEPHOTOS.COM home page