Tuesday, September 9, 2003... Greetings from Portland, Oregon, where a recent drought broke just in time for my arrival. Rain was the theme of the day: I awoke in a rainstorm, drove 300 miles through rain and fog, and reached sunshine just in time for it to spoil a few late-afternoon shots for which I had to point the camera westward.

I hear the chorus. "Rain? In the Pacific Northwest? No!". But notwithstanding the region's reputation for dampness, nearly all of that rain falls between October and May. My friend Matt, who lives just outside Seattle, reported that his area got more rain in half an hour this morning than it had received in the previous three months. Why couldn't it have held off just three more days?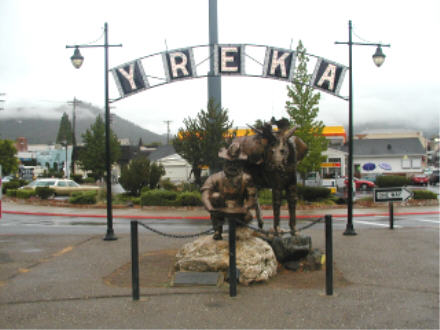 But it didn't. As a result, sightseeing detours were pointless, photography, problematic at best. Had plenty of time to let my mind wander, though. The wandering started as soon as I left my motel room and discovered the steady, chilly rain...after deliberately declining to photograph a couple of local sights last night because I assumed the morning light would be better. One of these sights was the office of a local small businessman in Yreka: Richter Scale Real Estate, complete with rapidly fluttering seismograph reading on the sign.

Leaving Yreka, I noticed that California has finally begun numbering its highway exits. The last exit on northbound I-5 is Exit 796, good for second place in the Longest One-State Stretch of Interstate contest behind I-10 in Texas. Then I recalled a couple of Oregon's quirks: no self-service gas (Oregon and New Jersey are the only holdouts), and unusual traffic control signs. In every other state, the posted signs say "Speed Limit XX"; in Oregon, they say simply "Speed XX," with the figures significantly larger. Oregon also has a lot of towns with weird names like Shady, Talent, Drain, Riddle, Boring, and Glide.

I continued north through Ashland, home of the annual Shakespeare Festival, and Medford, home of "Harry and David" and other mail-order fruit companies. Then came Grants Pass, which for some reason has adopted a caveman as its official mascot. The slogan on the Grants Pass welcome arch downtown -- "It's the Climate" -- seemed less than inviting as I donned a light jacket and stood in a drizzle to photograph it.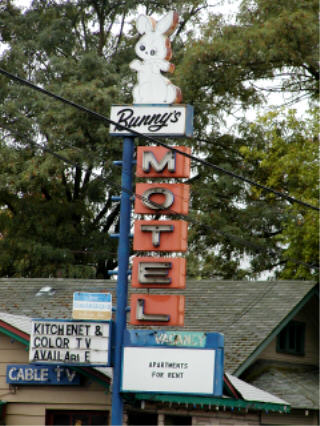 Grants Pass is also the location of the Photo of the Day, The original owner of Bunny's Motel erected the eye-catching sign, complete with rabbit on top, to lure tourists back in the day when all the California-bound traffic from Seattle and Portland funneled through town on old 99. Now the cars are out on the Interstate a few miles away, so to keep the place open the owner has converted at least some of its units into apartments. The sign still proclaims that "color TV" is available, and its use of the "BankAmericard" rather than "Visa" logo means it hasn't been updated in 30 years. (See how I can fill space when the weather limits the sightseeing options?)

North of Grants Pass, 99 shifts from fruit-growing to logging country. Long trucks, filled to the weight limit with just six or seven logs, chug along in the right lane of the Interstate and speed along two-lane 99. I passed one lumber mill/wood processing plant that stretched for a mile and a half along both sides of old 99.

At the aptly-named Junction City, 99 divides once again into 99E and 99W. I followed 99E, which runs through the state capital of Salem as well as Oregon City, the birthplace of the state back in Oregon Trail days. Once again the End of the Oregon Trail Museum had closed for the day before I arrived -- one more item to add to the list for the next time I'm through this area. At Milwaukie, just south of Portland, a World War II bomber has stood by the roadside for half a century, mounted about 15' off the ground. It used to hover over dozens of gas pumps at "Bomber Gas"; now it sits atop the "Bomber Restaurant."

99E and 99W reconnect at the north end of Portland, just south of the bridge to Washington. Rather than crossing the Columbia River, I turned southwest to Powell's, America's largest and best independent used and new bookstore. I didn't buy anything, though -- just wrote down what I wanted and brought the list back to my motel room. I don't have room to carry more books home, but since Powell's offers free shipping on orders of $50 or more, that's not an issue.

Checked into the motel, confirmed plans for tomorrow night's trip to Safeco Field (blueprint for chaos: I'm meeting up with six other people, none of whom know more than one of the others on sight), started this update, got bored, went to bed early, and resumed writing it when I awoke. It's now 7 AM -- time to shower, shave and hit the road. I'm off for the Canadian border, then back down to Seattle for the ballgame. Later...



---
Go to the next day
Back to NEWS FROM THE ROAD menu
Back to ROADSIDEPHOTOS.COM home page