Sunday, June 2, 1991...



Spent just about the whole day driving through Iowa: not nearly as bad as I'd feared, especially since the average speed through most of the state was over 70 mph. Passing through the visitor center at the eastern end of the state, I noticed that the folks from Dyersville had now incorporated the Field of Dreams set into the local tourist brochure.



First stop: the Hoover Museum and Library in West Branch. The site includes the two-room cabin in which Herbert Hoover and his two siblings were born and President and Mrs. Hoover's graves as well as the museum/library. The displays featured highlighted Hoover's pre-Presidential career and stressed his decades of public service, conveniently avoiding the Depression and downplaying his comments about FDR and the New Deal. Next came the Amana Colonies, remnants of an 1850s communal religious society: the buildings were old, but most contained shops I wasn't interested in. Maybe in 30 years I'll better appreciate this type of tourist site better...though the day I find myself wanting to scout out replica 19th century butter churns, I'll shoot myself.

The only real highlight in this area came in South Amana, where the lesser-known sculptor named Henry Moore, a retired farmer, spent the last 15 years of his life carving miniature rural villages out of wood. It's billed as the largest collection of miniatures carved by one man, but doesn't compare to the breadth and diversity at Roadside America. Not worth a detour, but a lifesaver amidst the cultural desert of Amana.

Next came Trainland USA, a huge railroad layout plopped down in a nondescript building 12 miles west of Newton, Iowa. This homey museum, "designed to bring joy to kids from 1 to 101," contains 2,600 square feet of operating Lionel O-gauge trains, two dozen of which run along the 4,000' of track at any time. The exhibits are divided into the Frontier, Steam and Diesel Eras of railroading; there's also a separate display of railroad memorabilia and toy trains dating to 1916.Some lucky old gentleman got paid to run the trains, while a shop in nearby converted railcar sold almost any form of model-railroading paraphernalia. Trainland USA's moment in the spotlight came in 1984, when George McGovern held a press conference here to highlight the idiocy of the national campaigning season.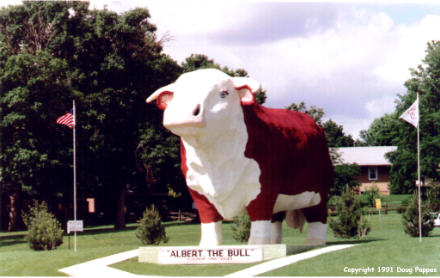 Then there was the local radio. The Grinnell, Iowa KFC offered Tuesday-night specials on liver and gizzards. Western Auto advertised, "if you work on your car and don't go to Western Auto for parts, that's like going to the Grand Canyon and not spitting over the edge." And when I learned that the country station at frequency 105.7 from Sioux City, Iowa, called itself KSUX, I nearly doubled over before learning it was pronounced "Sue" rather than "Sucks." Encouraged by daylight that lingered well past 9:00, I drove on to Sioux Falls, South Dakota before stopping for the night.
---
Go to the next day
Back to Old Road Trips menu
Back to ROADSIDEPHOTOS.COM home page