Friday, April 17, 1992...
Covered the Upper Peninsula and Milwaukee...but the next few days don't look good at all. The morning began with a swing north to Copper Harbor, the start of US 41. This time of year, Copper Harbor's a virtual ghost town. Once I reached the circular turnaround two miles north of town which marked the beginning of US 41, I didn't pass another car in either direction for 22 miles. The only life I saw consisted of two women walking a dog about half a mile from the end of the road; one of them shouted at me to slow down even though I was driving five MPH under the posted speed limit. Maybe I should have taken their advice, though -- about two hours later I was pulled over by a Michigan state trooper for driving 70 in a 55 zone.
The Upper Peninsula is a world of its own, centered on winter, mining and logging. Its residents, known as Yoopers, have long resented their Lower Peninsula stereotype as a cross between West Virginia hillbillies and Canadian black bears. Most of them, anyway; others revel in the image. At Ishpeming I found Da Yoopers Tourist Trap, a small but original gift shop selling Upper Peninsula-themed novelties. Anyone for canned Porcupine Peckers or Fish Assholes? I also bought two cassettes by the band Da Yoopers, a collection of local zanies who sing about deer season, drinking lots of beer, winter and Scandinavians, hitting at least as often as they miss. I added my name to their mailing list. Further south in Gladstone, the former Hoegh Pet Casket Company has unfortunately changed its name to Hoegh Enterprises or something equally corporate, though I suspect if I had knocked the tour of the model pet cemetery would still be available.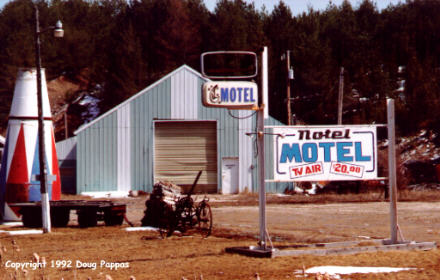 Alas, this time I missed the quintessential U.P. attraction: Ewen's Load of Logs Park. The original Load of Logs, a majestic assemblage of the finest white pine in northern Michigan, was hauled down to Chicago for the 1893 World's Columbian Exposition. Not content with this fleeting glory, Ewen created the world's largest replica Load of Logs for permanent display in its Load of Logs Park, where it charms tens of visitors each year.



Tired of dull, vertical trees with branches and leaves? Fascinated by very large piles of firewood? Then the Load of Logs is for you.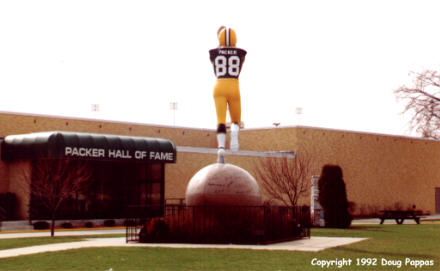 Followed US 41 south into Wisconsin, where it's known as the World War II Veterans' Memorial Highway. I turned off briefly in Green Bay to look around Packerland -- Lambeau Field abuts US 41, with the Green Bay Packer Hall of Fame and an athletic arena across the street from the stadium. The rest of the way to Milwaukee, 41 paralleled the Interstate at a safe distance. It enters Milwaukee from the northwest as a nice Fifties-era commercial strip, widens to Interstate width for a mile or two downtown (including an exit which feeds directly into the County Stadium parking lot, providing unequaled access), then continues as a commercial strip through the rest of the city. South of Milwaukee, US 41 has been redesignated along the path of I-94, but most of the time the old roadbed, and surviving motels and cheese shops, continues on either side of the Interstate. After catching the Brewers' game, I stopped for the night in Racine.
---
Go to the next day
Back to Old Road Trips menu
Back to ROADSIDEPHOTOS.COM home page