Saturday, April 18, 1992...
The radio predicted another miserable day for travel. Good thing I didn't pay too much attention to the forecast, or I would have missed a lovely drive. The weather near Lake Michigan gave me no incentive to hurry; it was drizzly in Racine, and raining fairly hard when I neared Chicago.
41 comes into Chicago through a tortuous series of local streets in places like Skokie -- definitely not recommended for speed or scenery, though the railroad overpass bearing the sign "Protect the Environment, Wear Fur" merited a chuckle. It ultimately feeds onto Lake Shore Drive, which on a nice day is one of my favorites; today, however, visibility was well under 1/2 mile because of the fog and drizzle, making me a lot less happy about being there. Did get a couple photos, though, and swung past The Old Alma Mater near the Museum of Science and Industry. Then 41 took me along the South Shore and past the same visions of Hell I remembered oh-so-well from US 20: the rusting Skyway, the Whiting refinery. Missed the Gary steel mill, though -- damn!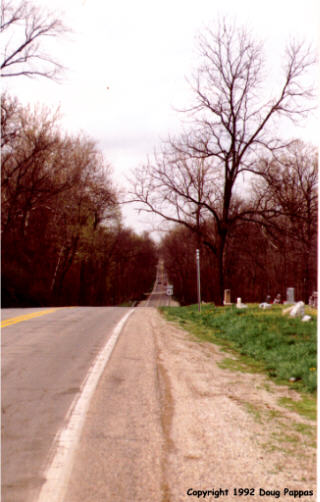 Once past the Chicago suburbs, though, 41 turned into a dream road: sometimes two lanes, mostly four, but never elevated or otherwise detached from the communities through which it flowed. Driveways, cemeteries, and dirt roads bordered the pavement. Terre Haute, the first major town south of Chicago, added a wonderfully ornate 19th century Civil War memorial and government building to the view; from there south to Vincennes, roadside businesses (even a Stuckey's) beckoned the traveler with a series of billboards. And despite the dire warnings on the Weather Channel and the ominous-looking map, 80% of the drive passed in bright, warm sunshine. If the rest of the trip is as wonderful as this afternoon's drive, I'll be in luck...
---
Go to the next day
Back to Old Road Trips menu
Back to ROADSIDEPHOTOS.COM home page