Sunday, April 19, 1992...

Covered from Evansville to Chattanooga today, driving at a leisurely pace and through rain most of the time. US 41 through Kentucky remains resolutely uninteresting; it parallels one of the western Kentucky parkways, so doesn't get much traffic, but also has little scenery to recommend it. The road doesn't really start to improve until one nears Nashville, where suburban traffic quickly becomes the dominant image.



Nashville has more churches -- mostly Baptist and Church of Christ -- than anywhere else I've seen, lining the main roads. I detoured up US 31E toward Twitty City and Johnny Cash's House of Cash, but wimped out -- Johnny's place was closed, and at the last minute I thought that even with Conway's own house thrown open to tour buses, Twitty City wasn't the most productive use of my time. Besides, it's just off US 70, so I might be through again...



Instead I returned to Nashville's Music Row, which is no more tasteful than I had remembered. Within a two-block strip, there are museums and/or gift shops dedicated to Barbara Mandrell, George Jones, Hank Williams Jr., Randy Travis, Alabama, George Strait, Conway Twitty, Elvis, Mickey Gilley, and probably one or two others. This time, sparked by the Austin Lounge Lizards song, I decided the must-see was the car Hank Sr. died in, on display at Hank Jr.'s museum. Though signs advised, "No Photography," I was alone in the place and had paid $4.00 to enter, so I let the video camera roll.

Among the fee-charging attractions, the only must-see is the Country Music Hall of Fame, which offers first-rate memorabilia and classic film clips of Jimmie Rodgers, Patsy Cline, Hank Williams Sr., and even a few living artists. Elvis Presley is well represented by the guitar he used on his original Sun recordings and a car better than any displayed at Graceland: a gold 1960 Cadillac with gold TV in the back and gold records embedded in the roof. Admission also includes entrance to RCA's Studio B, where Elvis and many others recorded some of the most insipid country songs ever waxed.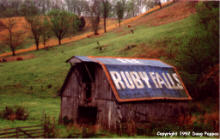 From Nashville, US 41 continued southeast toward Chattanooga. I-24 parallels the road, drawing away most of the traffic; if the weather had been nicer, this would have been a very scenic route, traveling up and down hills, across small streams and through small towns. Saw lots of decrepit barns which had been painted "See Rock City" 30 or so years ago; also photographed a wonderful two-sided barn advertising Ruby Falls on one side, Missouri's Meramec Caverns on the other.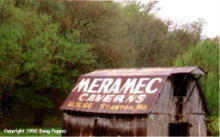 Stopped briefly to tour the Stones River National Battlefield, where the Confederates tried and failed to dislodge Union troops from central Tennessee on New Year's Eve, 1862; this failure ultimately allowed Sherman to follow more or less the path I was taking toward Atlanta. Unfortunately, I reached Chattanooga too late for any of the attractions -- an error which will be corrected first thing tomorrow morning.


---
Go to the next day
Back to Old Road Trips menu
Back to ROADSIDEPHOTOS.COM home page