Monday, April 20, 1992...
Began the day with a visit to Ruby Falls, deep underneath Lookout Mountain. Lookout Mountain, on the Tennessee-Georgia border, is America's most tourist-friendly peak: Rock City on top, Ruby Falls underneath, the Incline Railway up one side, and a national battlefield park to boot!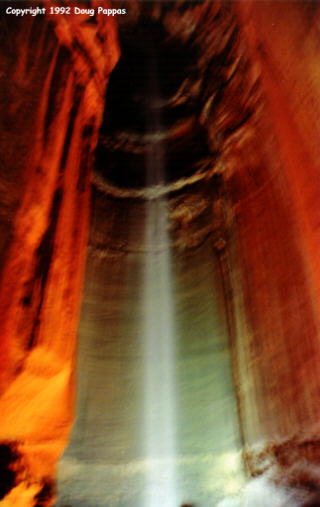 Alas, Ruby Falls is among the least of these attractions: an hour-long cave tour, led by a guide who specializes in bad jokes, puns and fanciful descriptions for the formations. The tour climaxes at a 145' subterranean waterfall which management has bathed in colored light to make it look like something more exotic than the world's largest leaky ceiling.
Next stop: Confederama, which does for the local battlefield what the Electric Map does for Gettysburg. As at Gettysburg, the terrain played a major role in the Battle of Chattanooga: Southern troops east of Chattanooga sought to cut off supplies to the Union army occupying the city, while Confederate troops there and atop Lookout Mountain besieged the enemy. More than 5,000 model soldiers and 650 lights provide a visual context for the narration, which explains how the Union found an alternate supply route and ultimately drove the Confederates south into Georgia.
Then came the Incline Railway and a walk to Point Park. The Incline Railway, America's steepest passenger incline, climbs for a mile up the side of Lookout Mountain, at a slope reaching 72.7 degrees near the summit. It's powered by gears which pull a cable linking twin trolley cars: as one climbs, the other descends at the same stately pace. From the top, it's just three blocks to Point Park, part of the Chickamauga and Chattanooga National Military Park, for a breathtaking view overlooking Chattanooga. While standing behind the Civil War guns still trained on the city, I imagined the one could cause by firing just one cannonball on the city below...
Finally, there's Rock City. It opened in 1932 as a simple garden tour. Over the next 15 years founder Garnet Carter -- also the inventor of miniature golf - built bridges, cemented rocks and invented legends for "Lover's Leap," "Fat Man's Squeeze" and "High Falls." At one spot, visitors peer through a series of colored glass windows to see "Yellow Chattanooga," "Red Chattanooga," etc.; at another, they cross a spring-mounted bridge which bounces with every step. Although Rock City's slogan touts, "See Seven States," four of the seven are at least 50 miles away...in fact, the most prominent "scenic" landmark visible from Rock City is an oil refinery at the foot of Lookout Mountain.
But don't come to Rock City for the views. Come for Fairyland Caverns - the Brothers Grimm on LSD. The Caverns, lit entirely by ultraviolet "black light," contain hundreds of fluorescent gnomes, trolls and other characters retelling classic fairy tales in hallucinogenic colors and images. Don't drive or operate heavy machinery for half an hour after visiting.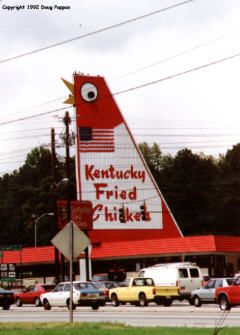 Half a day and I was just three miles from the motel. But it was time to head south - and, unfortunately, the next hours were much less fun. US 41 passes through miles of the dingiest districts of Chattanooga and environs, capped by the unspeakably ugly carpet capital of Dalton, Georgia. The road gets to be fun again south of Dalton, but bogs down around Marietta, 20 miles northwest of Atlanta. Atlanta should never be seen on 41 -- the road zigs and zags several times, including a couple of unmarked forks.
Stopped for the Martin Luther King National Historic Site, where Dr. King's birthplace, grave and home church occupy adjoining blocks. The sight of his sarcophagus set in the middle of the pool at the King Center for Non-Violent Social Change was particularly moving, as was the chronology of his life. The museum has his Nobel and other prizes, many personal effects, and even the key to Room 307 of the Lorraine Motel, where he was staying when shot. I then drove around for quite a while searching for the Carter Presidential Center: appropriately for President Carter, it's kept very low-key, set in a wooded grove far from an Interstate and near a ghetto. I arrived too late to walk through the exhibits, but was impressed by the style and layout of the place.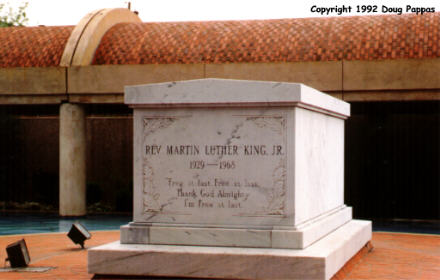 Then it was time to turn south. The next 15 miles through southern Atlanta and suburbs were sheer agony, including several miles of two-lane road abutting railroad tracks and with airport traffic crossing our path. Once finally free of Atlanta, though, the road became interesting again: an attractive old courthouse in Forsyth, a tiny town several miles south, a normal-looking house with two full-sized buses and a loaded logging truck parked in front. Stopped for the night in Macon.
---
Go to the next day
Back to Old Road Trips menu
Back to ROADSIDEPHOTOS.COM home page