Tuesday, April 21, 1992...
Drove from Macon to Tampa without seeing anything of particular interest in 400 miles. The overcast throughout Georgia didn't dampen my car, but dampened my ardor for any wandering for purposes of sightseeing. I'd thought about stopping at the Agrirama in Tifton, but the clouds there were the thickest of the day and a few drops of rain were falling -- figures that this would happen as I approached the day's one possible outdoor excursion. Even Magnolia Plantation, which used to have one of the best collections of tacky postcards, offered nothing today. Through southern Georgia, the towns by the side of the road got increasingly poorer as I drove south. Near the border, whatever action remained had long since shifted toward the Interstate, but even there nothing looked busy.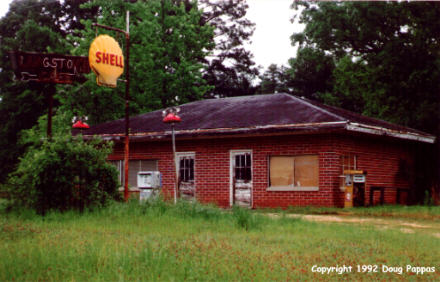 The Georgia-Florida border is marked by a cactus planted in 1931 in honor of a Florida road commissioner, and a mile or so later by a long-abandoned Florida welcome center, dedicated in 1952 and doubtless closed soon after I-75 opened. The first hour and a half of Florida looked like a continuation of south Georgia -- not much of anything going on anywhere -- but soon enough I passed into Land Developer Country. Looks like two-thirds of the town names in north-central Florida were selected by developers hyping their retirement communities.
Stopped for the night in Tampa, where I met a friend for dinner and caught up on sleep.
---
Go to the next day
Back to Old Road Trips menu
Back to ROADSIDEPHOTOS.COM home page