Sunday, May 3, 1992...
Today's drive began with a return trip through downtown Cleveland. Although US 6 and US 20 run together as Euclid Avenue for a number of miles east of the city, 6 turns north in Euclid and becomes Superior Avenue. Its route to downtown Cleveland runs first through a ghetto, then through a district of mostly-closed factories, before entering Public Square a block north of US 20.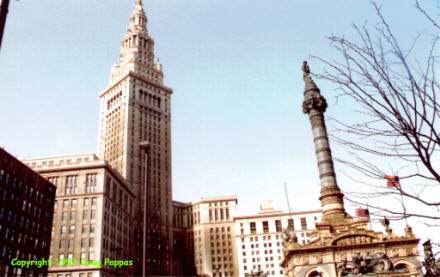 Cleveland's Public Square is the nicest city center I've seen. First off, the open space really is open -- aside from the century-old Soldiers and Sailors Monument, there are no buildings at all in the square. The buildings around the square add character: the Terminal Tower hovering over one corner, the main post office/ courthouse diagonally opposite, the multistory May Department Stores flagship at a third, a small old church at the fourth. In between, the new BP building adds a modern touch. Public Square's also a real crossroads: US 6, 20, 21, 42, 322 and 422 all come together here, not to mention several state routes.
Once over the Cuyahoga, US 6 and US 20 form Clifton Avenue, a wonderfully broad (six lanes plus a center turning lane) drive through some of the area's finest homes. But further on, where US 6 veers north to become Lake Street, the surrounding real estate gets even nicer -- for miles, only one house separates US 6 from Lake Erie. In Vermilion, I stopped at the Great Lakes Historical Society, an old waterfront mansion with lighthouse and adjacent museum describing the history of Great Lakes shipping. A pleasant diversion, even for a confirmed landlubber like me.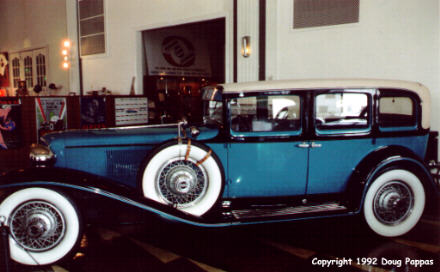 Came within a few miles of the Hayes Presidential Center but didn't stop. Instead I continued to the Auburn-Cord-Duesenberg Museum in Auburn, Indiana. A shrine to Art Deco styling and automotive luxury, the Museum (located in the former Auburn Automobile Company showroom/offices) preserves over 130 of the most elegant motor vehicles ever built. Unfortunately, they were built during the Depression, when few could afford handcrafted luxury cars costing a third more than a Cadillac. The Auburn, Cord, and Duesenberg production lines closed in 1937, but the cars manufactured here remain symbols of quality, performance and first-class engineering. The museum itself interior is an Art Deco special, and most of the cars were top-of-the-line models designed with evident care and artistry for people who wanted more, much more, than just transportation. There was even an entire room full of memorabilia from Chicago's 1933 Century of Progress exposition.
Driving west through northern Indiana, I discovered one good thing about the region: even in broad daylight, I could catch Tigers, Reds, Cubs and White Sox games on their respective flagship radio stations. Could probably have found the Milwaukee Brewers, too, if I tried hard enough -- but why bother?
Then came the hellish part of the drive. Northern Indiana's farmland slowly became northwestern Indiana's suburban sprawl, then Greater Chicago's Traffic Congestion from Hell. Just south of Gary, US 6 joined Interstates 80 and 94 on the Calumet Expressway...and just as it had done the last time I came through, traffic bogged down in an apparently pointless five miles east of the state line. US 6 turns north at the first exit in Illinois, but this just meant that I had to contend with an endless series of strip shopping centers and traffic lights. The road didn't clear out until I was nearly to Joliet, by which time it was getting dark.
I stopped for the night in Morris, IL. Found a nice surprise in my room: an exit-by-exit guide to the history and attractions along I-80 from Chicago through Nebraska, apparently designed for families traveling with children, called "Traveling I-80 with Otto." Very well executed -- particularly since anyone driving that stretch of I-80 with small kids will be crying out for something, anything to distract them.
---
Go to the next day
Back to Old Road Trips menu
Back to ROADSIDEPHOTOS.COM home page