Wednesday, May 6, 1992...

Covered Colorado virtually from border to border, no thanks to the state highway department. US 6 in Colorado is hands-down the worst-marked road I've ever seen. In downtown Denver, of all places, no signs indicate where it turns south before bending west again -- that required a detour. Then when I got further west, into country where 6's only separate existence was as the occasional loop off from the Interstate, the exits never bothered to say when 6 split off to go its own way. Near Grand Junction I had to back up eight miles to find the (unmarked, of course) origin of 6, only to be force-fed onto the Interstate going in the wrong direction. Grr...

When I was on 6, though, the scenery varied wildly. Nothing could have made the first hundred miles of wheatfields interesting, though the presence of a Stuckey's didn't hurt. 6 entered Denver from the northeast, and remained north and east of the central business district (of which US 40, Colfax Avenue, remains the hub) until splitting off towards Golden. At Golden, I turned up the Lookout Mountain Highway to Buffalo Bill Cody's grave at the top. When Cody was buried here 75 years ago, the idea was to honor him with a burial at the summit of the tallest mountain overlooking Denver -- unfortunately, since then about ten broadcasting companies have scarred the mountain with their transmitters, and Denver has become so polluted that downtown's not even visible from the top of the mountain. The lovely Rocky Mountain air and water doesn't begin until well past Denver, which is a remarkably polluted city.

From Golden west, though, 6 covers some spectacular terrain. First comes Clear Creek Canyon, which it traverses by means of five short tunnels as well as a winding mountain road next to the creek. A fork off of 6 leads to Central City -- I visited there last year, before gambling had officially opened, and was sufficiently disgusted that I've got no plans to return. Instead, I continued to Idaho Springs, as ever dominated by the Argo Gold Mill on the hill overlooking town. I'd hoped to drive to the summit of Mt. Evans (28 miles south) again, but the road wasn't open yet. Maybe on the US 40 trip...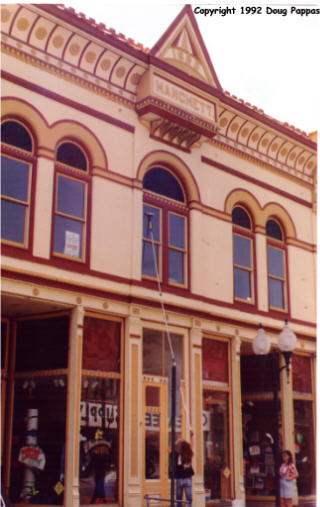 Soon after Idaho Springs, 6 runs up the side of a mountain while I-70 tunnels through. The road through Loveland Pass (11,990'), which until 15 years ago was the only way west from Denver, remains a winding, two-lane road with hills so steep many trucks were laboring to maintain 30 mph. Plenty of snow remained at the summit, and the nearby ski areas remained open even though Vail (which I passed soon thereafter) had closed. Next I stopped in Georgetown to look around -- again, a place I'd visited last summer. I wanted to ride the narrow-gauge railroad, but this time of year it only runs weekends.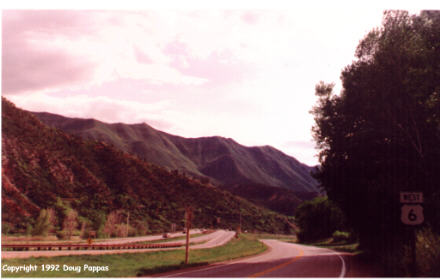 Then came almost a hundred miles of Interstate -- or what someday will be Interstate. Glenwood Pass remains far from finished; a sign warns travelers to expect a half-hour's delay, which seems conservative. We sat for 10 minutes before moving at all, then drove single-file through ten miles of No Passing zones at 30 mph -- definitely a stretch to be avoided, if there was only a way to do so. Then came my encounter with the unmarked Route 6, which delayed me long enough I couldn't visit Colorado National Monument tonight as planned. Instead I just drove the last 20 miles of Route 6, doubled back and headed for the motel. The Grand Junction Super 8 has one of the friendliest desk clerks in captivity; we talked for fifteen minutes as she handed me more and more literature on the surrounding area.. Tomorrow it's on to the real scenery, Utah-style!
---
Go to the next day
Back to Old Road Trips menu
Back to ROADSIDEPHOTOS.COM home page