Thursday, May 7, 1992...
Today's drive was the scenic -- and empty -- route. I started with a swing through Colorado National Monument; hadn't remembered it as especially good when Steve and I drove through in '88, but was quite impressed this morning. Next came sixty miles of empty Interstate before the junction with US 191 -- I turned south 30 miles to some of the most spectacular scenery in the world.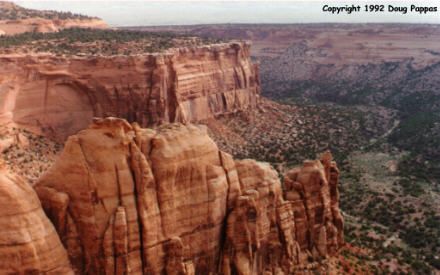 This time I bypassed Arches entirely in favor of Canyonlands National Park. Even before I got within fifteen miles of the park, the access road was a thing of beauty. And the park itself was even more spectacular: canyons, mesas and the Colorado and Green Rivers below. On the way out I returned to Dead Horse Point State Park, which may be the best single viewpoint in the country other than Yosemite's Glacier Point. From the edge I could see the horseshoe river bend below (with incredibly lucky boaters and vehicles with 4WD right in the middle of it all), the mesas rising on two sides, and the steplike ledges marking how the water had carved its path. Just as incredible, I was the only one there! Something to be said for hitting the road early...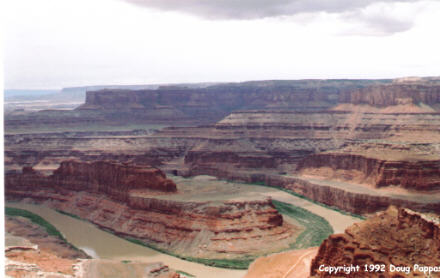 After my park visit, though, came the Empty Land. US 6 left I-70 just west of Green River and its sign warning "No Services Next 106 Miles on Interstate," veering northwest towards Salt Lake City. I was lucky -- the next services were a mere sixty or so miles distant. Unfortunately it soon began to rain, negating the scenic impact of the canyons US 6 traversed on its path toward civilization. At Spanish Fork, 6 turned south to parallel I-15 for 15 miles, before crossing it and again returning to the Empty Land.
I stopped for the night in Nephi, Utah - 25 miles from US 6, but the nearest town I could be sure of finding an acceptable room. The only town between here and Nevada is Delta, which doesn't look like much even by the standards of rural Utah.
---
Go to the next day
Back to Old Road Trips menu
Back to ROADSIDEPHOTOS.COM home page