Sunday, May 10, 1992...
A day which ended much better than it began. The morning began with an unwanted, frustrating tour of the Phoenix/Tempe area, thanks to the locals' charming custom of not marking US 60 or US 89 anywhere within the city limits even though the road bends at least twice. Couple this with Rand McNally's failure to list a single site in the area which could serve as a landmark, and I spent forty full minutes driving in circles, often not sure which direction I was headed or what road I was on, while cursing out local highway engineers in the vilest language I could find.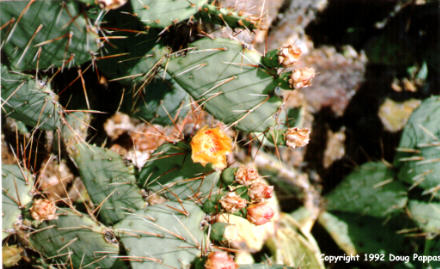 Fortunately, once past Greater Phoenix the day was a delight. First stop: the Boyce Thompson Desert Arboretum, where 1500 plant species and numerous bird and insect species greeted me. The place has an awe-inspiring collection of desert plants, many of which were in full bloom; I was able to photograph a bee in the act of pollinating a cactus flower, and spent over an hour wandering the grounds. Then I continued east on US 60 through the Salt River Canyon, where the road dips almost 2,000 feet to cross just above the water line, then rises again along the other bank. The whole way east from Apache Junction to New Mexico was scenic, but not in the "desert" sense I'd expected of Arizona -- most of the time I was at an altitude of 4,000' or more, with mountains and trees more appropriate to northern Utah or Montana.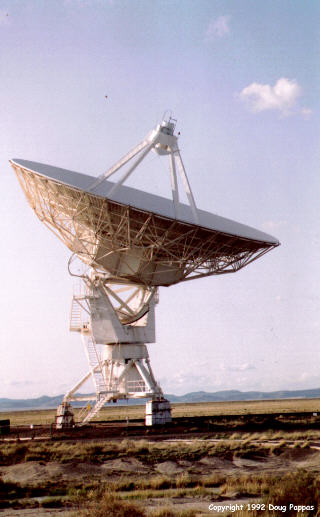 The road became less scenic in New Mexico, but I found some worthwhile distractions. One I couldn't help but notice: the Very Large Array of radio-telescopes located 25 miles west of Magdalena, forming the world's largest and most powerful collector of information about the universe. Each of the three arms of the Array, containing nine separate radio-telescopes, can be varied (via rails) from 2,000' to 13 miles long; today they were about 2 miles long. Once in Magdalena, I detoured four miles southeast to the ghost town of Kelly, NM, where the only intact structures were the old mine and the Catholic church. Got to my motel in Socorro just as the sun was setting...
---
Go to the next day
Back to Old Road Trips menu
Back to ROADSIDEPHOTOS.COM home page