Monday, May 11, 1992...
At Socorro, US 60 joined with I-25 for two dozen miles northbound. The attendant at the Interstate rest area showed me four 19th-century US coins, in small coin-dealer bags, which he'd found while cleaning up; as I drove off I was tempted to turn back and offer to buy them from him for less than I imagined they'd be worth, but I thought better of the idea. When something like this happens, the odds are at least 2:1 I'd be the one being scammed.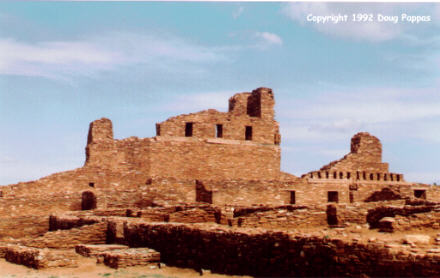 After US 60 turned east again, I visited Salinas National Monument, which preserves the intersections of two cultures: Pueblo Indians and Spanish settlers. The monument includes three locations around the small town of Mountainair, each of which contains the ruin of a 17th-century Spanish mission church and Indian pueblos in various stages of excavation. From there, the road continued on to Texas on uninspiring prairie. US 60 and US 70 rejoin shortly before Clovis, New Mexico, then separate literally ten yards west of the Texas border.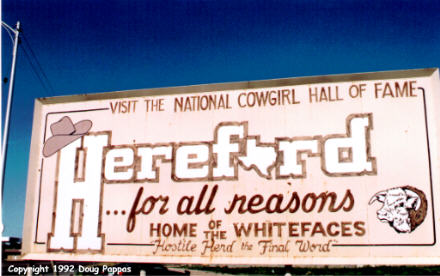 The scenery was no better in Texas, but at least the place-names were more interesting. Bovina and Hereford left little doubt this was ranch country. Seeing no towns within 150 miles east of Amarillo likely to offer adequate accommodation, I stopped earlier than I had planned, using some of the spare time to visit the Big Texan Steak Ranch, the huge tourist trap which offers a free 72-oz. steak dinner to anyone who can finish it within an hour. Didn't eat there, but the adjacent souvenir store had an outstanding collection of Route 66 memorabilia, including a T-shirt I couldn't pass up. The salesclerk, a cute, bubbly Texas-type, asked where I was from. When I told her, she said I didn't sound like a New Yorker, so I launched into my best Lawn Guyland imitation.
---
Go to the next day
Back to Old Road Trips menu
Back to ROADSIDEPHOTOS.COM home page