Wednesday, May 13, 1992...
A lovely day's drive, though without many stops. I began by driving into the Booker T. Washington National Monument, only to drive right on through when I saw three busloads of schoolkids unloading at the front door. Then came Wilson's Creek National Battlefield, one of the westernmost Civil War sites. With only one busload of children with me here, I was able to look around the visitor-center displays and drive the battlefield without too much problem. (Note for future reference: any trips involving a lot of historic sites should be taken after schools are out.)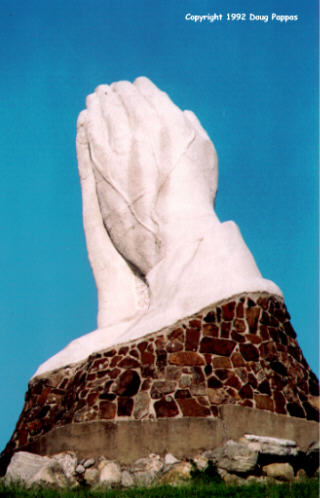 The other major stops were at tourist traps: Ozarkland at Carthage, where I bought Dan N. a hillbilly calendar and child's bowl inscribed "Danny" for his birthday; Hillbilly Junction, an enlarged and converted Stuckey's in central Missouri; and Boomland, a fireworks/souvenir emporium east of Sikeston, about 10 miles from Cairo. I would have stopped in Lambert's Cafe, "Home of the Throwed Rolls," had I not reached Sikeston on a full stomach at 4:30 PM.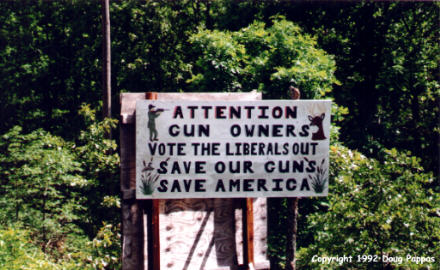 US 60 spends about half a mile in Illinois. First it crosses the Mississippi River on one bridge, then within sight of that structure, it crosses the Ohio River into Kentucky. In between is part of the shell that is Cairo, Illinois. I'd read about Cairo in Ron Powers' Hometowns, but the magnitude of the region's depression didn't really hit home until I got here. Cairo's Fort Defiance State Park should be a regional treasure: the extreme southern tip of Illinois, at the confluence of the Ohio and Mississippi Rivers, with great views of the rivers rolling by. At 5:15 PM, I was the only car in the lot...and from what little I could see of Cairo, I knew it wouldn't be a good idea to remain here after dark.
By Kentucky, it was obvious I was back in the East. Not just the lush vegetation overgrowing everyplace it wasn't stopped, but also the numerous tiny towns - wide spots around every bend in the road, just big enough to require a passing car to hit the brakes once or twice. Crossed the Ohio River to stay in Evansville, Indiana -- it's a good 15 miles north of US 60, but I didn't trust any of the closer motels to have phone jacks for the modem.
---
Go to the next day
Back to Old Road Trips menu
Back to ROADSIDEPHOTOS.COM home page