Thursday, May 14, 1992...
Across Kentucky and into West Virginia today, making almost no stops. The road passes through downtown Louisville and next to downtown Frankfort (such as it is), but except for a nice overlook of the state capitol, nothing really caught my interest. The ride from Frankfort through Lexington goes through horse country, with the huge expanses of grass and white fences providing a scenic backdrop.
East of Lexington, US 60 passes through a number of small farming communities before opening up into hills and forests. Stayed in Dunbar, WV...and noticed as I was getting into the car to drive for dinner that my radiator had sprung a leak and was dripping green fluids. The temperature grew dangerously high whenever I left the car to idle, though it was fine at high speeds -- certainly something I need checked out in a big hurry tomorrow morning.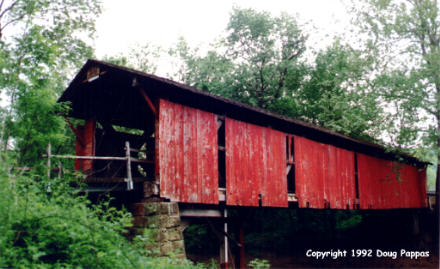 Spent most of the evening on the phone, scheduling my itinerary for the forthcoming Route 66/US 50 trip. In addition to the roads, I'm planning to visit as many friends from college as possible along the way - and with strategic West Coast detours to San Diego and Santa Rosa, that could include almost everyone I'm still in touch with. (Almost everyone -- sorry, Matt.) None of us are attending our class reunion, but since I'll be traveling with a camcorder, this will be a perfect opportunity to capture them in their "native habitats."
---
Go to the next day
Back to Old Road Trips menu
Back to ROADSIDEPHOTOS.COM home page