Friday, May 15, 1992...
I was lucky; the problem with my radiator was only a broken valve cap. Though I had to wait a while until the service station could get the part, the total cost -- parts and labor -- was just $21! I then continued through Charleston and across West Virginia...but the morning remained foggy and overcast and I could tell that I wanted to photograph a lot of the scenery I could barely see, so when I reached I-64 I drove southwest to Beckley, then north and back to Charleston for another try.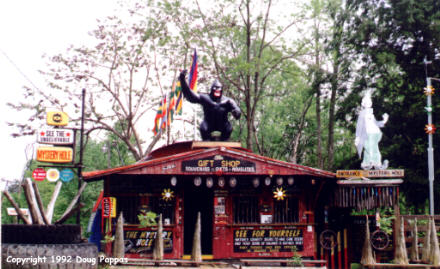 By the time I reached Charleston again, it was about 1:30 PM, but the skies had cleared. The entire trip between Charleston and the Virginia border contains lovely scenery: first along the Kanawha River, then up into the hills and through Hawks Nest State Park, and then across rolling hills and fertile fields. I was way behind schedule, but that's a lot better than covering everything under conditions which prevented me from seeing anything.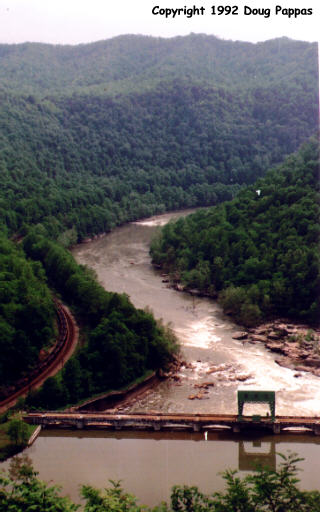 I didn't reach Virginia until after 6:00. For most of the way between the border and I-81, US 60 shared the roadbed with I-64, so I was able to make good time; then it was up through the Blue Ridge Mountains and across the fields towards Richmond. By the time I reached the junction for Appomattox it was too dark to take pictures, but I plowed on; got all the way to the edge of Richmond without seeing anything that looked photo-worthy, so I don't have much left to complete US 60.
Got to Dan N.'s apartment at 10:15. In retaliation for the lovely gifts I had brought him, he ever so thoughtfully gave me Bobby Sherman's Greatest Hits on CD. This could prove useful if I ever wanted to kill myself while making it look like an accident: play that over the car speakers during a long, boring stretch of road, then let nature take its course. Within 10 minutes I should roll over in a ditch...
---
Go to the next day
Back to Old Road Trips menu
Back to ROADSIDEPHOTOS.COM home page