Sunday, May 24, 1992...
My streak of good weather ran out: it rained all morning and into the afternoon, throughout Maine and New Hampshire and most of the way across Vermont. The final 30 miles of Maine weren't much anyway. When I got to New Hampshire, I had the chance to drive up Mt. Washington again, but the opportunity for a 150-foot view from the summit seemed more trouble than it was worth.
The Northeast's highest peak at 6,288', Mount Washington proudly claims the world's worst weather. The strongest winds ever recorded (231 MPH) occurred here, the summit is fogbound 70% of the time, snow can fall during any month...the overall effect is so severe that the timber line here is only 4,000', a third as high as Colorado's. The summit house shows a video of a man trying to eat a bowl of cereal on the outdoor viewing platform. First the cereal and milk fly straight sideways when he pours, then as he tries to brace the table, the wind topples man, table and chair.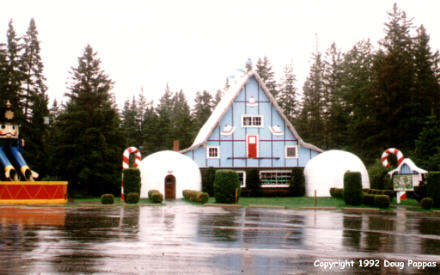 Despite the heat wave, the summit of Mt. Washington was probably close to freezing. The other northern New Hampshire tourist attractions, Six Gun City and Santa's Village, hadn't even opened for the season yet. When I reached Vermont, though, I really regretted the nasty weather. Vermont's got the green, rolling hills and picturesque dairy farms that spell New England for photographers, as well as a low-key attitude other states would do well to copy. All billboards are outlawed, and one example of a tourist gift shop -- the Farmer's Daughter in St. Johnsbury -- is housed in a barn built in 1820 and, so far as I could tell, never updated to include modern features like central heating. At the other end of the state, I drove north for 25 miles on Lake Champlain islands before finally crossing into New York at Rouses Point.
About 200 yards past the bridge, US 2 intersects US 11...and simply vanishes. The western part of US 2 doesn't start until Sault Ste. Marie, Michigan, leaving a 600-mile gap. And this junction is barely a quarter mile from the Canadian border, where US 11 begins its southwestern trek toward New Orleans. Through here, 11 hugs the western shore of Lake Champlain for five miles before turning sharply west, then bending southwest, skirting the Adirondacks. This is dairy-farm country with a strong Canadian influence, but while nice to look at, it offered little or nothing I hadn't seen before. (This trip is making me very picky about small towns.) So I stayed on the road until almost 9 PM, stopping for the night in Syracuse.
---
Go to the next day
Back to Old Road Trips menu
Back to ROADSIDEPHOTOS.COM home page