Monday, June 15, 1992...
Started the day at Meramec Caverns in Stanton, Missouri. While waiting for my tour, I amused myself by picking up some postcards and reading how "Tom Sawyer" and an episode of "Lassie" were filmed at the cavern, as well as the "Jesse James" hoax (not admitted to be such, of course) perpetrated by the owner. A number of the locals complained about the price, but $7.50 for an 80-minute tour sounded fair to me.
The tour itself lived up to expectations: elaborate colored lighting where appropriate to highlight formations, and a transcendent finale in the "Theatre Room" which featured a light show as Kate Smith sang "God Bless America"! That reminded me of the similar nighttime scene at Pennsylvania's Roadside America. Shortly before 11 AM I pointed the car southwest and took off for Tulsa.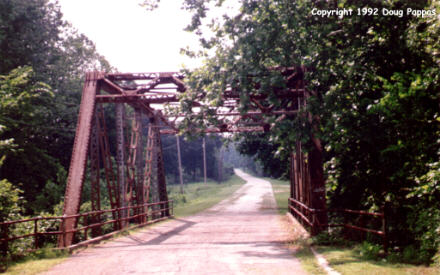 By following the Route 66 guidebook -- and also a Missouri 66 Association state map picked up at "Route 66 Motors," a collectables shop near Rolla -- I was able to drive the old road across Missouri while only once returning to the Interstate. The drive wound up and down hills, across two-lane bridges dating to the Twenties and four-lane highways from the Fifties...and most often wound up right next to the Interstate on one side or the other, allowing me to drive as fast as the freeway vehicles while maintaining the freedom of not being chained to the Interstate.



I'd hoped to see the wild animal park in Buena Vista, just east of Springfield, but was too far behind even to consider a stop. Once clear of the Springfield area, I stopped to check out a couple of antique stores in Halltown, one of which had been the subject of a Rob Waldmire postcard. The owner, a 70ish woman, had a number of 66-related maps and postcards, but nothing that appealed to me. She was not happy to learn that I already had a copy of the Waldmire postcard featuring her place -- she'd commissioned it specially, paying him to draw her shop, and claimed he'd given her a six-month exclusive on the card. I'd have been more sympathetic if I hadn't noticed that she'd marked up his set from $6 to $14.50, and if her disposition hadn't so obviously soured when I gave her the news.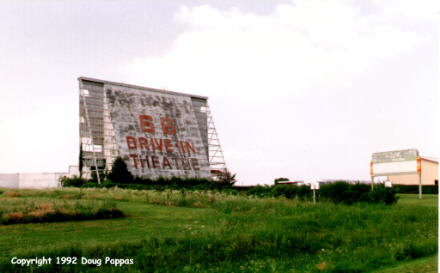 I also had to skip the Will Rogers home/grave in Claremore, Oklahoma, since I didn't get there until 8:00 PM. I continued on to Tulsa, photographing roadside sights as I went, reaching the motel at 8:40.
---
Go to the next day
Back to Old Road Trips menu
Back to ROADSIDEPHOTOS.COM home page