Tuesday, June 23, 1992...
Across all-too-familiar scenery through Utah and into Colorado: today's drive exactly coincided with the stretch from Ely, NV to Grand Junction, CO where Routes 6 and 50 overlap for 2/3 of the distance. Since I'd driven that less than two months ago, I set my mind and the car on cruise control.
But shortly after crossing the border into Utah, I was pulled over by three Utah patrolmen. Thought they'd ticket me for driving 63 or so in the 55 zone, but instead two of them inspected every visible inch of the car through the windows while the third looked at my papers and warned me that my front plate was hanging loose. Not a bunch of police I'd care to run into again. (Several years later a Lincoln Highway Association official who serves as police chief of another Utah town confirmed that on this out-of-the-way route, many officers look for any excuse to pull over out-of-state cars, virtually assuming that they're drug couriers.) Finally 6 turned north at Delta and I continued towards the emptiest stretch of Interstate anywhere in the country: 107 miles between services, Richfield to Green River. Though Rand McNally doesn't mark it as scenic, it's one of the most spectacular drives around -- right through the middle of southern Utah's Color Country, with hills, rocks and ridges everywhere.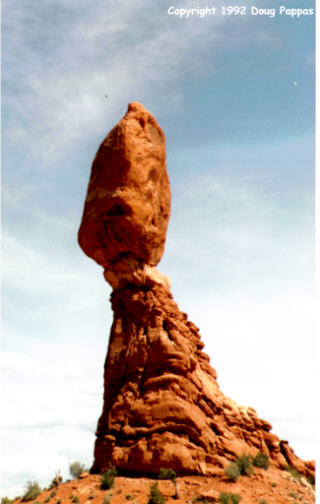 I had a decision to make at Moab: turn south to Arches, or continue across Colorado to make the best time? I opted for maximum sightseeing. The sign at the Arches visitor center forecast a high of 103 degrees, and since I arrived at about 3:15, that gave me a pretty good idea of the ambient temperature as the car's temperature gauge crept dangerously high. I turned the air conditioner off whenever feasible and raised the hood while stopped for photographs, just to be on the safe side; when I did, I heard ominous-sounding noises inside the engine.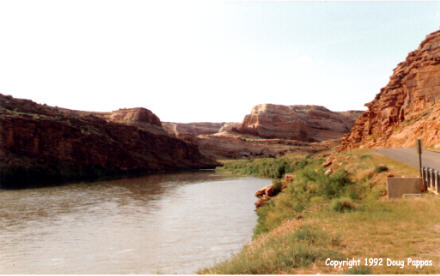 From Arches, I took a beautiful back road along a canyon of the Colorado to return to the Interstate, then returned to the same Grand Junction motel I'd visited before.
---
Go to the next day
Back to Old Road Trips menu
Back to ROADSIDEPHOTOS.COM home page