Thursday, June 25, 1992...
Amazingly, made it to St. Louis on time! Was on the road at 8:00, reaching downtown St. Louis by 9 PM after covering over 650 miles. Good thing 150 of those miles were on Interstates, with another 150 or so on four-lane divided highways. Also a good thing that I had only one major stop, at Dodge City.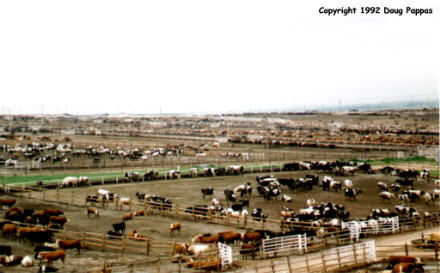 Dodge City is that rarest of history-based tourist attractions, a purely synthetic experience. The original historic Front Street burned to the ground a hundred years ago. It's been rebuilt as a type of living history museum. (I saw a thoroughly hokey, unrealistic "medicine show" there.) The bodies were removed from Boot Hill over a century ago, but there are still mock "tombstones" there to titillate us tourists. Just around the corner, though, is a truly distinctive sight: the Kansas State Teachers Hall of Fame, combined with a gunfighters' wax museum! I somehow resisted the temptation...
The rest of Kansas was as boring as I'd feared. The day was rainy and overcast, too, which didn't help matters. I drove past a couple of huge, fetid stockyards, then later past huge wheatfields. In Chase County, US 50 is named for a strain of wheat! At Kansas City, the road turned southwest for a four-lane cruise across western Missouri. I was disappointed at not having found anything worth photographing, but once I reached state capital Jefferson City, all that changed.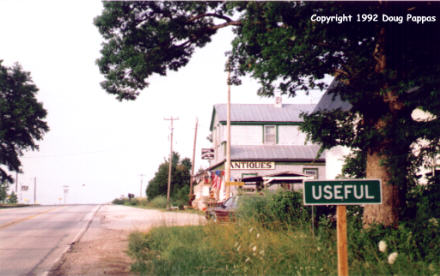 From Jefferson City to I-44, 45 miles southwest of downtown St. Louis, the road was a majestic two-lane highway, bending up and down hills, around corners, and through picturesque small towns. I reached the Adam's Mark, SABR's convention hotel, shortly before 9:00, collected my registration packet and prepared for three near-sleepless nights...
---
Go to the next day
Back to Old Road Trips menu
Back to ROADSIDEPHOTOS.COM home page