Sunday, June 28, 1992... Spent the next two and a half days at the SABR convention in St. Louis. When it ended, I wandered around the downtown district for a while, visiting the old courthouse but not the Gateway Arch, then headed east on 50.
The route followed expressways and suburban strips from I-44 until 15 miles into Illinois. then reverted to a two-lane path through the agricultural heartland. Unfortunately the terrain of southern Illinois offers no interesting hills or curves. Nor does it offer many motel rooms, as I discovered when trying to find one...
Monday, June 29, 1992...
Continued across the Midwest on my way to visit my father and stepmother in Mason, Ohio, northeast of Cincinnati. The drive across Illinois and Indiana was as boring as I'd feared. You know you're in trouble when the drive's big stop is the George Rogers Clark Memorial in Vincennes, IN.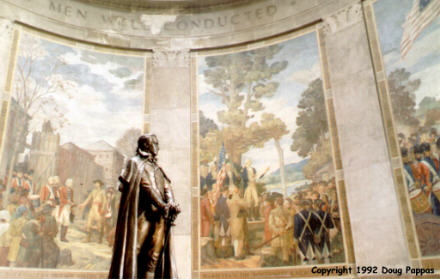 The Memorial, a tribute to America's early explorers, is a round neo-classical monument that would look more appropriate in downtown Washington, D.C. Inside are eight murals and a statue of Clark. Further along 50 in eastern Indiana, a sign marks the birthplace of Richard Nixon's mother, the woman so memorably described as "a saint" during his rambling, self-pitying -- and long overdue -- resignation speech.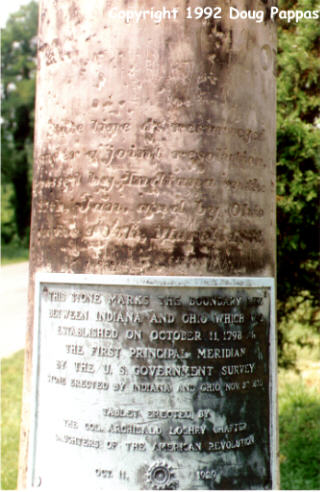 North Bend, Ohio, tucked away in the southwestern corner of the state, contains the gravesite of another president, William Henry Harrison. Harrison's remembered, if at all, for contributing to his own death The oldest man ever to take office for the first time, Harrison delivered the longest inaugural address - outdoors, in sub-freezing weather. He died of pneumonia a month later. His tomb overlooking the Ohio River has seen more action in the last three years than in the previous fifty -- there's a new sundial and a new plaque. Then it was time to fulfill familial obligations...
---
Go to the next day
Back to Old Road Trips menu
Back to ROADSIDEPHOTOS.COM home page