Friday, July 10, 1992...
For this trip, a US 89/US 93 loop through the desert and the Rockies, I flew to Phoenix last night. This morning began with a 160-mile drive down to Nogales, on the Mexican border; the most interesting thing about this drive was that all of I-19's distance signs are given in metric measurements. (Not the speed limits, though - a "Speed Limit 90" sign would've been too tempting.)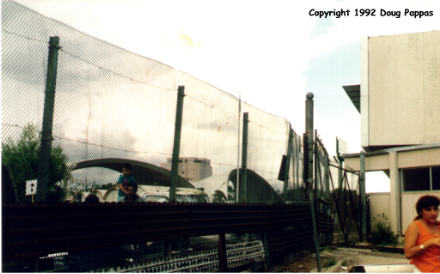 US 89's trek to Canada began inauspiciously. The border crossing's under repair, detouring all traffic onto another street for the last block. Undaunted, I photographed the border through the chain-link barricade. A railroad track abuts US 89, also crossing the border; it works by means of a sliding fence. The Mexican side of the border, a town also called Nogales, looks as decrepit as the Tijuana crossing I'd seen a year and a half ago. The American side was little better, though; Nogales looks like it peaked at least 30 years ago.
North of Nogales, US 89 joins I-19. Sometimes, "Old Tucson Road" (or later, "Old Nogales Road") crossed the path, reminding me that the Interstate was at least the third road to connect these cities. I stopped at Tumacacori National Monument, fifteen or so miles north of the border, to view the ruins of another Spanish mission, this one constructed circa 1820. Great thing about the desert climate, though -- except for the ravages of looters, the building's in much the same condition as when it was abandoned more than a century ago.
I continued north through Tucson, then along the Pinal Pioneer Parkway (US 89 and old US 80) north of town. Western star Tom Mix was killed here in 1940, clubbed to death by his own suitcase when his touring car ran off the road. Arizona's erected a monument at the site, adjacent to Tom Mix Wash. Soon after came the junction with US 60; since I'd covered this territory before, I took advantage of the overlap to take expressways around downtown Phoenix.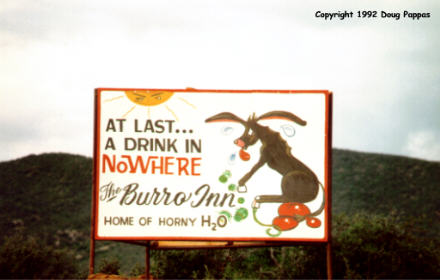 Next came the steady climb into the mountains. First Prescott (on the outskirts of which an old-fashioned tent revival was setting up, promising faith healing), then up to the Interstate at Ash Fork, retracing Route 66; and finally on to Flagstaff for the night.
---
Go to the next day
Back to Old Road Trips menu
Back to ROADSIDEPHOTOS.COM home page