Tuesday, July 14, 1992...
Another exhausting day in Yellowstone. Since this was my fifth trip to or through Yellowstone in eight years, I concentrated on the places I didn't know as well -- the lesser geyser basins, for example. Although Old Faithful is so popular it has its own Interstate-style cloverleaf exit from the main park road, many other geysers are just as impressive. And Old Faithful is ctually among the worst places to view Yellowstone's thermal features at work: visitors are kept far away from the geyser itself, and as the park's most popular attraction, Old Faithful is overrun by screaming idiots who camp on the semicircle of benches for half an hour before each eruption as though there's nothing else to see. When Old Faithful finally erupts, they watch for 30 seconds, then race for their cars.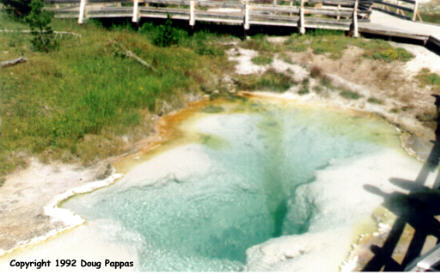 By contrast, the Midway and Norris Geyser Basins provide trails that weave through the thermal features. Midway's Grand Prismatic Spring presents a stunning spectrum of colors, with deep blue water in the center and a circle of red and yellow algae growing along the cooler rim. In the Norris Basin, Echinus Geyser erupts every 35-75 minutes to an average height of 60 feet: visitors can stand directly in front of its pool, and the benches are close enough for the prevailing winds to drench spectators during an eruption.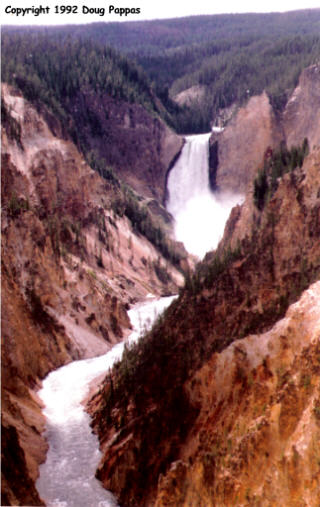 And since I was staying in Canyon Village, I couldn't pass up another of Yellowstone's highlights, the Grand Canyon of the Yellowstone. The Canyon extends for 20 miles, averaging 1,000' deep and up to 4,000' wide. Its walls are predominantly yellow, but also contain red, orange, white, brown and even blue hues. The 109' Upper Falls and 308' Lower Falls rise above the south end of the Canyon. On both sides of the Canyon, park roads provide easy access to trails leading down to the water's edge -- after sampling the available options, I concluded that Artist Point on the South Rim is the best place to stop if you're only going to stop once. But why would you want to do that?
Though I'd planned to go easy on the photography, I wound up shooting several dozen pictures today and will add a few more tomorrow morning as I follow US 89 out the park's northern entrance. Didn't see as much wildlife as on past visits, though this is later in the season and the hordes of Winnebagos would drive any self-respecting elk deep into the hills. Tonight I was less happy about the media blackout -- I missed the All-Star Game!
---
Go to the next day
Back to Old Road Trips menu
Back to ROADSIDEPHOTOS.COM home page