Wednesday. July 15, 1992...
Up early, driving past 132' high Tower Falls and out the north entrance to Yellowstone. In Gardiner, just north of the park, I picked up an interesting little booklet entitled "Yankee Jim and the Yellowstone Trail," about the man who built a private road through a canyon north of the park; it also includes some detail about the early Yellowstone Trail, a forerunner of US 89 in this region.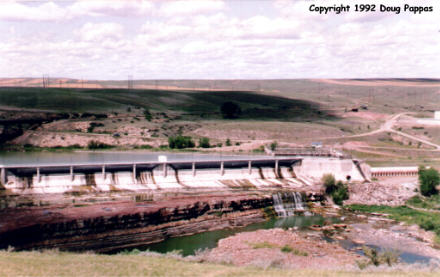 Then I spent the rest of the day following 89 north towards Canada. After Gardiner, the only towns of any size along the 350-mile drive were Livingston (where the local museum was closed until noon, and I didn't have time to wait) and Great Falls. Just east of Great Falls is the Rainbow Dam across the Missouri, with a "Lewis and Clark Overlook" providing a lovely view of a dam which would have astonished Lewis and Clark. Great Falls is also the home of the Charles M. Russell museum, collecting the works of the renowned Western painter/sculptor next to his home and studio. (I prefer Frederic Remington's work, though -- and he worked from a studio less than five miles from where I grew up in the New York suburbs.)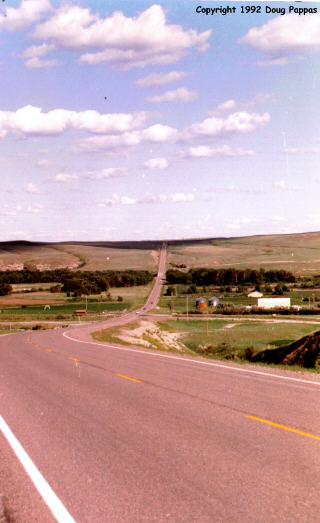 Though Great Falls tries to be a "Gateway to the West" city, it's actually in the middle of the wheat-growing prairie, with architecture -- and traffic -- resembling North Dakota more than the Rockies. The eastern two-thirds of Montana is grain country, and notwithstanding America the Beautiful's reference to "amber waves of grain," those waves get awfully damn repetitive after the first 20 miles. From Great Falls, it was north 120 miles to Browning, where I stayed at the Glacier Motel, a small, nine-unit place on the east side of town.
---
Go to the next day
Back to Old Road Trips menu
Back to ROADSIDEPHOTOS.COM home page