Thursday, July 16, 1992...
Driving up to Glacier National Park this morning, I heard the day's big news story: Ross Perot backed out of the Presidential race! Many of his supporters, quasi-deranged people who viewed his candidacy as a moral crusade with him in the role of Messiah, did not take the news well.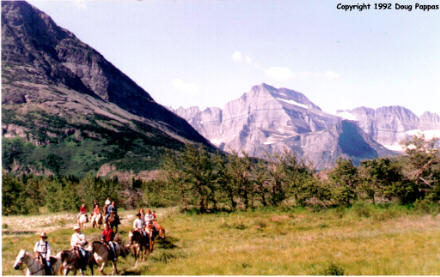 Until I reached Glacier, I was unsure how I'd cross between US 89 and US 93. I could have taken the Going-to-the-Sun Road through the park, but opted instead to go up and over through Canada instead of crossing through the park and then driving 65 miles north to the border.
After visiting the northeast corner of Glacier, in which the road dead-ends, I covered the last dozen miles before the Canadian border, stopping just before the American customs station to photograph the end of US 89. As I was finishing, a customs man told me to stop filming the scene so long as someone was undergoing an inspection -- as though my little videotape, taken from fifty yards away, could help someone smuggle something into the country! Our border patrollers are such overbearing jackasses compared to Canada's...
I backtracked six or seven miles, then turned northwest toward Canada's Waterton Lakes park abutting Glacier. I visited the main village in the park, then continued without touring the side roads. I left the park on Alberta's Route 6, turned left on Route 3 (the Crowsnest Highway), and crossed the Rockies into British Columbia. Though I didn't stop to photograph anything outside the park, I passed a tiny roadside chapel and the "world's largest piggy bank" in Alberta parking lots. One of these years I'll vacation in the Canadian Rockies and photograph thus stuff properly.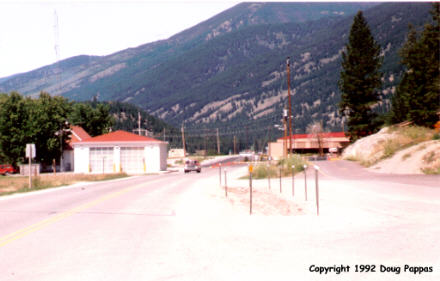 The drive back into the US was uneventful, as was the trip south towards Missoula. Northern Montana's all forest land; around Kalispell the Western Vacationland theme emerges. Missoula, though, is just a medium-sized city with nothing particularly distinctive about it. As Bill Clinton accepted the Democratic nomination, I called my father, celebrating his 60th birthday today.
---
Go to the next day
Back to Old Road Trips menu
Back to ROADSIDEPHOTOS.COM home page