Saturday, July 18, 1992...
On to Vegas! It was a long day's drive -- over 550 miles -- without too much to recommend it. North of Ely, there was nothing whatever worth noticing; south of Ely, the scenery got better (US 93's designated a Scenic Route for much of this distance) and I even found some stuff worth photographing. Pioche and Caliente, the only towns for more than 250 miles, are classic old desert towns, built to service the railroads which once hauled ore down to Las Vegas and thence to civilization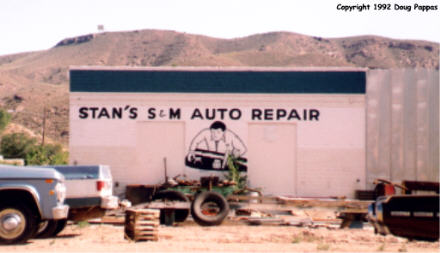 Got to Las Vegas shortly after 7 PM and headed straight to my motel to wait until it was dark enough to photograph. No point going out during daylight -- Vegas never closes, and it's a helluva lot better-looking when the view's dominated by neon signs rather than the cheap facades of the casinos. From past experience, I also knew to drive Industrial Boulevard, a block west of the Strip, rather than the main drag, which combines the worst aspects of an urban rush hour and a small-town Saturday night cruising district. The Las Vegas Strip and midtown Manhattan are the only two places where I can make better time walking than driving.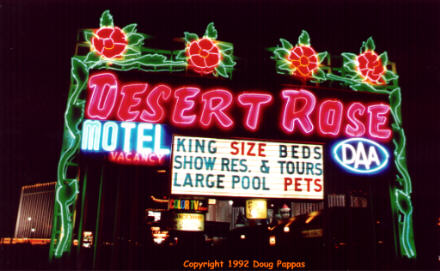 Spent most of my time in the downtown district, north and east of the Strip -- the locals' Vegas, where the properties aren't a quarter-mile long. Did a little gambling, losing about $60 at the slots, but winning $70 at blackjack. Got back to my room around 2 AM, looking forward to an easy day tomorrow. I had miscalculated the amount of time this trip would take, leaving me with an extra day before my flight home, and Las Vegas seemed the best place to spend it.
---
Go to the next day
Back to Old Road Trips menu
Back to ROADSIDEPHOTOS.COM home page