Sunday, July 19, 1992...
Today's major excursion took me to Valley of Fire State Park, about fifty miles northeast of Las Vegas. (This time of year, though, anyplace in the desert could be called a Valley of Fire: the forecast called for high temperatures of between 108 and 110 degrees for the foreseeable future.) The park contains red sandstone formations like those found in Zion National Park and much of southern Utah. In addition to eroded rocks resembling elephants, camels and beehives, the park drive passes petrified trees and Indian petroglyphs -- as well as a sign honoring the old Arrowhead Trail between Salt Lake City and Los Angeles, forerunner of US 91 and I-15, which passed through the canyon.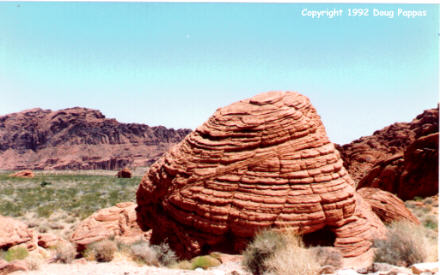 Although I drove there hours before the peak of the midday heat, I still couldn't spend more than 30 seconds out of the car without reaching for a cold drink. The best way to visit the Valley of Fire would probably be to sleep all afternoon of the day before, stay up all night in the casinos, then drive up around dawn. Then checked out a couple of bookstores before returning to my motel for a nap.
By doing so, I passed on the tackiest place in Las Vegas, a hard-won title if ever there was one: the Liberace Museum. Celebrity museums reflect the personality of their subject: the friendly Roy Rogers Museum, the nasty Nixon Library, and the flamboyant Liberace Museum. The feathered capes, rhinestone-studded pianos and jeweled candelabras displayed here - not to mention the World's Largest Rhinestone - put Graceland to shame. Fortunately, the world has been spared a plague of Liberace imitators playing trite piano melodies to swooning, blue-haired admirers.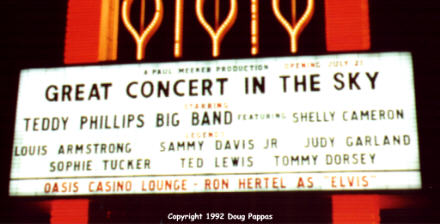 Tonight it was back to the Strip, for gambling, photo opportunities and dehydration as I walked several miles down bone-dry streets in 95-degree heat. When I went to bed at 3 AM, the area was still livelier than most downtowns at 9 PM on a Saturday night...
---
Go to the next day
Back to Old Road Trips menu
Back to ROADSIDEPHOTOS.COM home page