Friday, August 7, 1992...
[This account is dedicated to the memory of my aunt, Gerry Swanson. Before resuming US 11 where I had left off in May, I stopped for the night at her new house in Harrisburg, Pennsylvania. She and her husband Ron had just built it when Gerry was diagnosed with a rare blood disease that sapped her strength and required frequent transfusions. We talked for hours, discussing my summer on the road and their own plans to travel now that Ron was semi-retired -- the Holy Land this fall, the American West next summer.
They never got to go. The day after I left, Gerry was rushed to the hospital with a high fever: the blood disease was slowly damaging her vital organs beyond repair. She died six weeks later. She was only 55.]
Through Maryland and West Virginia, US 11 has little to recommend it besides proximity to the Interstate. It's a two-lane road through not-especially-interesting scenery, honeycombed with shopping centers. Once past Winchester, VA, though, the road takes on some character. As the Lee-Jackson Highway (or more commonly the Lee Highway), US 11 most often traverses the Shenandoah Valley as a three-lane road, providing left-turn and passing lanes for travelers in both directions. But with I-81 crisscrossing it every few miles and Skyline Drive/the Blue Ridge Parkway an unseen presence atop the ridge to the west, US 11's doomed to be overshadowed.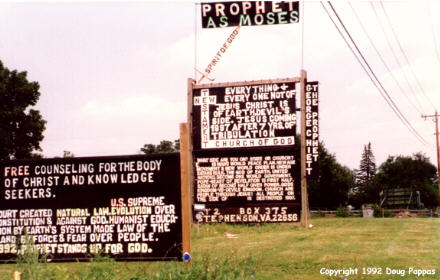 There are no shortage of attractions, though: including at least four commercial caves and innumerable Civil War sights. The Shenandoah Valley, especially at the north end, was one of the war's biggest prizes: the Confederates staged their Antietam and Gettysburg offensives from here, and the Union constantly worried about a dash toward Washington. New Market's got one of the few battlefields that's been even partially preserved, and it has two competing historical museums! I opted for the New Market Battlefield Historical Park, operated by VMI in large part to commemorate the achievements of its own cadets in the service of the Confederacy. I also stopped at a used bookstore I'd visited last fall, finding nothing worth buying.
The best-known of the caves is Luray Caverns. Luray offers the usual array of cave features, as well as two unique attractions well documented on the cave's postcards. Luray's "Petrified Fried Eggs" are two stalagmites broken off at the base and discolored by generations of visitors' hands, and "The Great Stalacpipe Organ" actually "plays" stalactites by striking them with rubber mallets. One postcard advises, "Due to the slow growth of the formations the organ will not require tuning for the next 1000 years."
I'd planned to continue south to Roanoke, but as I left New Market the sky grew ominously dark. With no motel reservations for a summer weekend and no real deadline to get anywhere, I stopped in Lexington, VA. Maybe tomorrow morning will be more conducive to photography...
---
Go to the next day
Back to Old Road Trips menu
Back to ROADSIDEPHOTOS.COM home page