Saturday, August 8, 1992...
With a Shoney's buffet nearby, I delayed the morning departure until properly provisioned. This also gave me a chance to read Dan's newspaper: the Letters to the Editor column was filled with outrage over the religion writer's daring to describe someone's "reassessment of the historical Jesus." Never mind that no two of the letter writers would probably have described Jesus the same way - how dare some damn pointy-headed intellectual write such nonsense!
Then drove right over the day's first sight. Natural Bridge, a 90' long, 215' high limestone arch, has the most distinguished pedigree of any tourist attraction: surveyed by George Washington, who carved his initials into the arch, and later purchased by an enthralled Thomas Jefferson, who called it "the most sublime of nature's works." Both the town and surrounding Rockbridge County were named for the formation, wide and strong enough to carry U.S. 11 across the top. But its 20th century owners couldn't leave well enough alone. After erecting screens to prevent traffic passing over the Natural Bridge from enjoying the sight for free, they built a hideous complex sprawling across both sides of the road, including motels, shops, a wax museum, cavern, and even a nightly drama staged at the base of the bridge. Thomas Jefferson would not approve.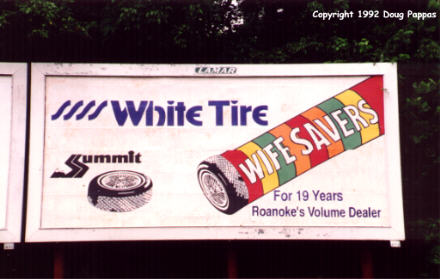 Once past Roanoke, I was in serious fundamentalist, God-country-and-Richard-Petty land. US 11 entered Roanoke through an old industrial area, coursed through decent residential neighborhoods, required a couple short stints on the Interstate... but fortunately held my interest. From Roanoke southwest towards Tennessee I drove through Blue Ridge foothills with the ever-present haze marking the terrain.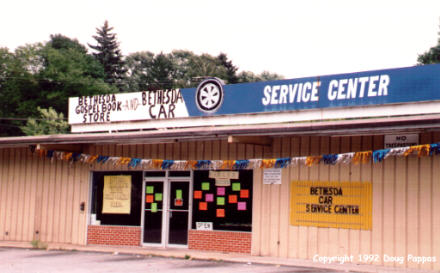 Had planned to stop at a used bookstore in Abingdon, a dozen miles north of Tennessee, but a fair or festival on Main Street left me with nowhere to park, so I continued south. The Virginia-Tennessee border is marked by the twin towns of Bristol, one on each side of the line - had hoped the crossing from Bristol, VA to Bristol, TN might be marked in some interesting manner, but no such luck.
About fifteen miles into Tennessee, I stopped at Rocky Mount, the first territorial capitol of Tennessee, now restored as a small living history museum. The actual building occupied by the first governor (who actually boarded with another settling family!) still stands, though the outbuildings were all reproductions. Then continued on to Knoxville, where I spent the evening with Hank Aaron's autobiography. As I headed into the Deep South, Aaron's account of the torrent of obscenely racist threats leveled at him just 20 years ago seemed like particularly appropriate reading.
---
Go to the next day
Back to Old Road Trips menu
Back to ROADSIDEPHOTOS.COM home page