Friday, August 21, 1992...
Didn't get on the road until after 9:00 this morning, later than I'd planned, but I still covered everything of consequence. I sped up I-75 towards the Upper Peninsula at an average 75 mph, stopping only for "Sea Shell City," a souvenir shop just south of Mackinaw City that had plastered the road with billboards. Had to reward these people with at least a look-see. Though I didn't stop on this visit, I noticed that Bronner's CHRISTmas Wonderland claims to have doubled in size -- a truly frightening concept.
US 2 begins at the west side of St. Ignace, at the northern end of the bridge across the Straits of Mackinac. It used to run all the way to the Canadian border at Sault Ste. Marie, but I wasn't complaining -- especially as the shortened journey allowed me to visit Mackinac Island, technically not on US 2 but certainly the scenic and historic highlight of the U.P. The ferry cost $11 round-trip and took about sixteen minutes each way.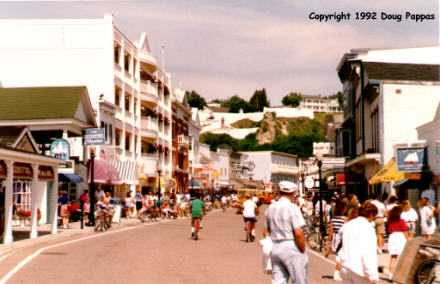 Mackinac Island far outshines every other summer resort community I've ever visited. Nature, history, scenery, comfort and amenities coexist with neither the snotty exclusiveness of a Bar Harbor nor the tackiness of an Ocean City or Virginia Beach. The secret: No motor vehicles are permitted on the island! Even guests coming to stay at the fanciest hotel, the Grand Hotel (featuring the world's longest front porch), arrive by ferry, with horsecarts hauling their luggage to their lodging. Most people rent bicycles (an 8-mile paved bike trail encircles the island), while others ride in horsecarts or, like me, simply walk. The state maintains Mackinac State Park, featuring the restored fort built atop the highest bluff almost two centuries ago. I walked around for an hour and a half before resuming my journey westward.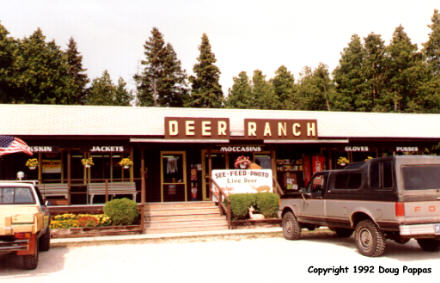 For its first fifty miles, US 2 seems stuck in a 1950s time warp. Once out of the St. Ignace franchise belt, mom and pop businesses predominate. There's a "deer park" which offers tourists a chance both to see live deer and to buy buck- and doeskin products from dead ones; a Mystery Spot; and countless restaurants specializing in "pasties," a Cornish miners' delicacy apparently peculiar to the U.P. and Butte, Montana. The road was known as the Hiawatha Trail in the pre-federal route days, judging from the occasional dusty paths crossing the main road.
My other major stop for the day took me to Fayette State Park, containing the partly-restored remnants of an ore-processing town which flourished for two decades in the 19th century -- an industrial version of a Western ghost town, but easier to reach and better-marked. From there, I continued on to a motel in Iron Mountain, noticing when I arrived that my face was deep red from the sun on the Mackinac Island. I tried, unsuccessfully, to alert Matt and Wendell that I was en route, then settled in for an evening of reading and watching baseball.
---
Go to the next day
Back to Old Road Trips menu
Back to ROADSIDEPHOTOS.COM home page