Saturday, August 22, 1992...
A very full day -- and night -- of travel. I continued across the Upper Peninsula from Iron Mountain, passing a historic marker at Iron River which claimed to be designating the site of the country's first roadside tables, in 1919-20.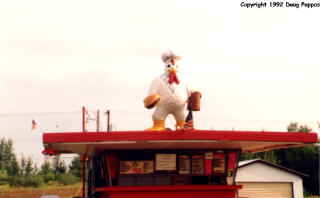 Stopped at Caspian, MI for the Iron County Museum, a collection which looked as if everyone in the county had not only emptied his attic, but also donated stray outbuildings. With two dozen buildings to fill, there was more of everything, and even less scholarship, than I'm used to at such places: an entire gallery of wildlife art by a modestly celebrated local, manuscripts of long-forgotten novels, band drums, etc. The highlight was the "world's largest collection of logging miniatures," carved with no particular artistry half a century ago.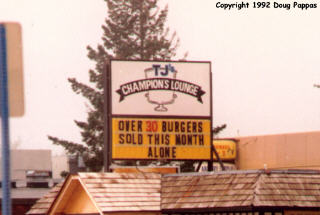 From there, I crossed a couple hundred more miles of hunting 'n' fishing country to Duluth, then turned right for the North Shore Drive, US (now State) 61. I'd tried for reservations at both the Super 8 and Comfort Inns, but was told both chains were filled throughout the region; at 1:30 in the afternoon, I was learning that all the smaller places were also booked. By the time I made for the border, I knew I'd probably be spending the night at a rest area, but I vowed to make the best of it.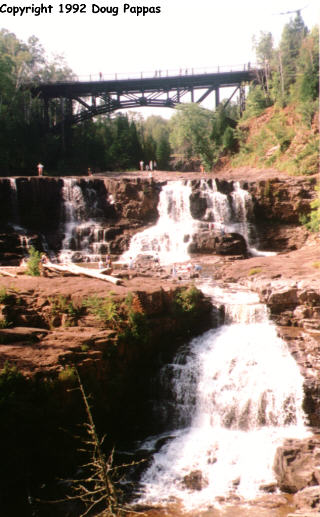 While all 150 miles of 61 between Duluth and the Canadian border offer scenery, the real highlights come in the first sixty miles. After passing a host of vintage tourist businesses, the road crosses over and just west of Gooseberry Falls, a good-sized, two-stage drop. A few miles further on comes Split Rock Lighthouse State Park, with lovely views of the lake as well as the eponymous lighthouse. North of Split Rock, the road passes through only one or two small towns before Grand Portage National Monument, five miles south of the Canadian border. The border itself is uncluttered, with only one large gas station/duty-free shop enabling Canadians to save a fortune on gasoline.
The newest -- and from the crowds overflowing every inch of the parking lot, most popular -- tourist attraction in Minnesota's Arrowhead Country is the Indian casino in Grand Portage. I paid a brief visit: every seat at the blackjack tables, and virtually every seat in front of a slot machine, was jammed. The slots paid considerably less than their Nevada or Atlantic City counterparts: on a par, in fact, with some of the worst bets in Nevada convenience stores! The patrons, most of whom seemed to have come down from Canada, didn't seem to mind; in fact, just as many were playing high-stakes bingo in an adjacent room.
Once I'd retraced my path to Duluth and eaten dinner, I decided to check out another Indian casino, the "Big Bucks" casino 20 miles southwest of town, in Cloquet. I figured that the car would be uncomfortable enough that I'd be best off tiring myself as much as possible before trying to fall asleep, as a good way to ensure I didn't keep waking up every half hour. The Big Bucks casino lived up to its name: earlier in the evening, a man had won a $49,000 progressive slot jackpot. The building had all the ambience of a large, hastily-erected warehouse, but the slots (with bad odds similar to those on the North Shore) and blackjack tables (a card counter's dream: everything dealt face-up, except the dealer's hole card, from a four-deck shoe) were standard-issue. The casino stayed open 24 hours a day, but didn't serve liquor; instead, patrons could get soft drinks from a waitress or directly from a free soda fountain. A couple of the dealers wouldn't have passed muster at a charity Las Vegas night in Peoria, but that didn't stop them from lightening my wallet by $40, along with the $30 lost at the slots. I returned to the Duluth rest area shortly before 3:00 AM, by which time I had no trouble falling asleep.
---
Go to the next day
Back to Old Road Trips menu
Back to ROADSIDEPHOTOS.COM home page