Sunday,. August 23, 1992...
In a well-lit rest area like this, the front seat of one's car probably isn't the worst place in town to sleep. I awoke at 7:00 this morning, none the worse for wear: washed my hands, put in the contact lenses and drove off, trying not to notice the stubble and greasy hair. But if every day on the road were like today, I'd have given up on the summer tour back in April.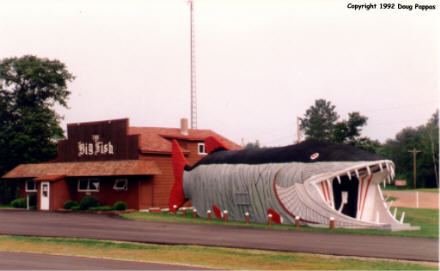 Though it was sunny in Duluth, the sun went away as I drove west. It was overcast by the time I reached the Paul Bunyan statue in Bemidji -- (located, of course, on Paul Bunyan Drive, not too far from the Paul Bunyan Mall. Bemidji has the oldest of many Bunyan-related statues in the area, an 18' likeness of Paul and his sidekick Babe the Blue Ox. Next to the statue, an information center houses many Bunyan relics, including his toothbrush, billfold, needle and thread, soap, straight razor and boxer shorts. (I'm waiting for someone to donate a weather balloon to be called "Paul Bunyan's Condom.")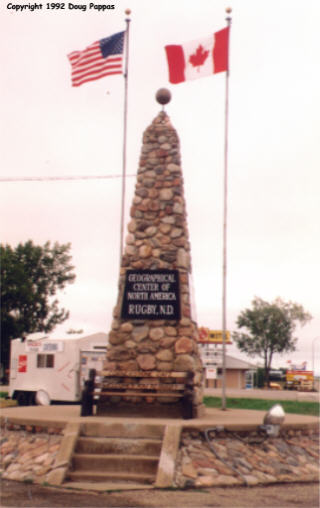 It was raining hard by the time I reached North Dakota. Apart from the weather, the drive was one of the dullest I've ever taken: a four-lane divided highway, with essentially no hills, curves or towns, across 200 miles of the Great Plains. And it was not just rainy, but cold and windy as well -- by the time I reached Rugby and got out to photograph the Geographic Center of North America marker, the weather felt more like March. When I reached Minot, where I spent the night, it was 38 degrees, with 15 MPH winds and rainstorms. Just lovely.
With no reason even to try to see the sights of Minot, I called Matt and Wendell to set up visits. Wendell told me that he'd just had another "life-transforming experience" at a New Age seminar. Some of us never seem to have such moments, while others have them almost routinely...
---
Go to the next day
Back to Old Road Trips menu
Back to ROADSIDEPHOTOS.COM home page