Tuesday, August 25, 1992...
Another long day on the road...but one which set me up for a very short day's travel tomorrow. I headed west across the Montana wheat belt, through towns named Kremlin and Chester and Shelby, coming closer and closer to the Rockies. I reached them shortly after noon at East Glacier Park, then followed US 2 southwest across 5,216' Marias Pass instead of through Glacier National Park.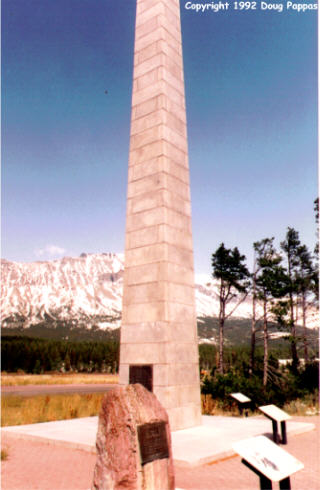 About fifteen miles southwest of East Glacier, where the road crosses the Continental Divide, a roadside park contains a memorial obelisk to Theodore Roosevelt. It was erected in 1931, marking the Theodore Roosevelt International Highway (4,060 miles between Portland, ME and Portland, OR, by way of Ontario), and is accompanied by a statue of the Great Northern Railway engineer who first found the way across the Divide. This was the last segment of the Roosevelt Highway to be completed: until 1930, cars had to be shipped through here by rail.
When I reached West Glacier, I decided there was enough time for a quick swing through the park. The "quick swing" lasted an hour and a half even though I even didn't reach the visitor center along the Continental Divide. Glacier's really a hiker's park (its Granite Park Chalet is accessible only by a four-mile hike), but the rugged mountain beauty comes through even from the only paved route through the park.
West of Glacier, the road's lined for 20 miles with mazes, wildlife exhibits, parks with live bear, Indian craft shops, etc. I took a quick tour of Hungry Horse Dam, then continued through Kalispell and west towards Idaho. A few miles east of the Idaho border, I hiked down to photograph Kootenai Falls, discovering to my disgust that I'd managed to run down the camcorder battery by inadvertently hitting the Record button.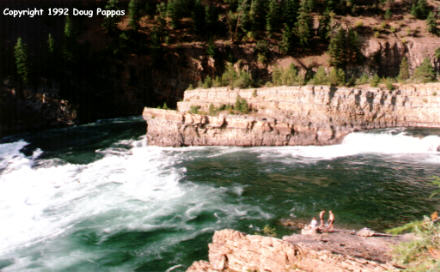 From the Idaho border, though, I had another 140 miles to go before I reached Spokane, the only city for several hours in any direction. And as I soon remembered, driving the winding roads of Idaho was a helluva lot slower than crossing the Montana plains -- not to mention the prospect of encountering neo-Nazis or "survivalists" if I detoured far from the main route. Even with the extra hour gained by crossing into the Pacific time zone, I didn't reach the motel in Spokane until 9:00.
---
Go to the next day
Back to Old Road Trips menu
Back to ROADSIDEPHOTOS.COM home page