Wednesday, August 26, 1992...
Finished the US 2 drive: 11 roads down, one to go. Had never been through Spokane before, so I drove around a bit, finding an interesting milk-bottle-shaped structure to photograph, then set out across the wheatfields. With plenty of time on my hands, I took the 20-mile detour to Grand Coulee Dam, visiting everything open to the public before returning to US 2.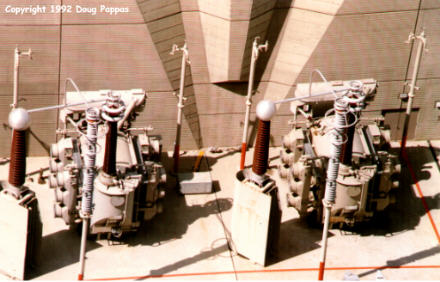 Another Depression-era project, the Grand Coulee Dam spans the Columbia River for almost a mile and stands 550 feet tall. It contains enough concrete to build a sidewalk twice around the world, and remains the Northern Hemisphere's largest hydroelectric plant. The Dam welcomes visitors with both guided and self-guided tours. During the summer, there's even a nightly laser light show projected directly onto the face of the Dam...but somehow I doubt that the Feds are presenting tributes to Pink Floyd, Led Zeppelin, or even Washington State's own Jimi Hendrix.
The area just east of the Cascades is fruit ranch country, with dozens of places selling farm-fresh fruit to travelers. It's also the site of Leavenworth, Washington, the most appallingly artificial "quaint village" I've ever seen. The entire town has been made over to look like a Bavarian village, yet there's not a single authentic thread or sign in the whole place. If I have to visit a Leavenworth again, I'll pick the one in Kansas...even though that one's a federal prison.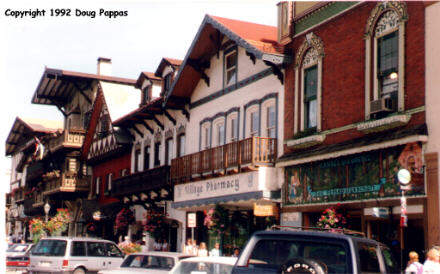 Then it was up the east side of Stevens Pass and down the west side, in an area where the mountains run within fifty miles of the Pacific. US 2 ends anticlimactically: at the junction with I-5, after which the roadbed passes over the Interstate on a bridge and emerges on Everett streets. What fun is that?
Then it was time for a little fun. I took Route 99 south from Everett all the way past Matt's place, enjoying the roadside scenery. Favorite motel name: the Court of Monte Cristo. Got to Matt's house shortly after 7:00, visiting with him and his brother Phil, a recent NYU grad, until our reminiscences were sufficiently boring to Phil. Then Matt and I kept going for several more hours...
---
Go to the next day
Back to Old Road Trips menu
Back to ROADSIDEPHOTOS.COM home page