Thursday, August 27, 1992...
As this trip marks the End of the Trail, I'm taking my time when not actually on "my" roads. The late night at Matt's left me tired enough to take a rest day in and around Seattle, checking out some of the local sights before driving to Kelso, most of the way to Oregon.
Friday, August 28, 1992...
Today began inauspiciously: I put in my contacts before rinsing off all the chemical cleaner, dilating my pupils to the point where I couldn't open my eyes in daylight. Sitting in a darkened motel room waiting for my eyes to clear makes even rainy North Dakota look attractive.
Finally continued south to Portland, where I got lost a couple of times en route to Powell's, America's best bookstore. Good thing I had driven instead of flown out: I found about a dozen WPA American Guides for the collection, as well as a couple of baseball books. $175 poorer, I cleared Portland about noon and pointed the car south.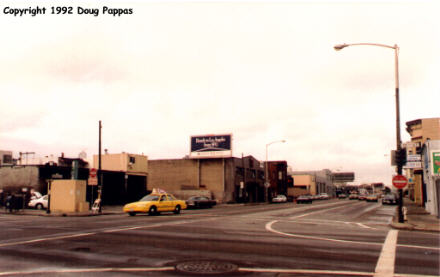 I bypassed both old US 99 and the coastal route, Highway 101, sticking to the Interstate on my way to San Francisco and another day of sightseeing and visiting with friends. My one road-related trip on Saturday was a quick visit to photograph the corner of Tenth and Harrison Streets, original western terminus of US 40 and US 50 at the junction with US 101.
---
Go to the next day
Back to Old Road Trips menu
Back to ROADSIDEPHOTOS.COM home page