Sunday, August 30, 1992...
Headed east on what once was US 40. Had hoped first to find the spot in Golden Gate Park where the Lincoln Highway officially ended, but the San Francisco Marathon was being run this morning, screwing up traffic throughout the area. I finally crossed the Bay Bridge, stopping on Yerba Buena Island for a quick photo, then dashed across the state.
First stop: the Nut Tree in Vacaville, which began life as a small roadside stand on July 3, 1921 and now stands as an immense complex with gift shop, restaurant, snack area, kiddie rides... If it were just a little tackier instead of single-mindedly wholesome, it might qualify for Roadside America. [Alas, the Nut Tree closed only a couple of years later -- not sure whether because of declining business or a battle among the family which controlled it.] Just a few miles further on, though, the old Milk Farm in Dixon is shuttered, its cow-jumping-over-the-moon sign enticing tourists to a place which no longer exists. Actually, a smaller operation might be continuing across the street, focusing on orange juice, but it's totally devoid of ambience.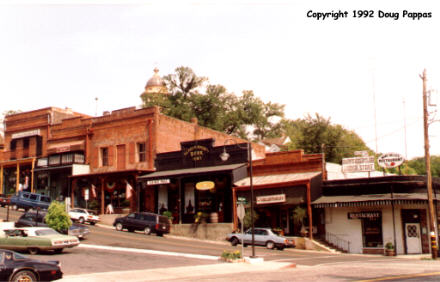 At Auburn, I picked up the trail of the Lincoln Highway at the "Lincoln Way" exit which feeds people through the historic district. When I passed through here in 1989, an old Lincoln Highway sign hung on the firehouse, but it's gone now. Later on, approaching Donner Pass from the west, I turned off at Soda Springs to follow old US 40 through the historic emigrant pass -- as Donner Pass Road, it's drivable for quite a distance. But the best surprise: the "Scenic View" offered by a small pullout six miles into Nevada isn't of distant scenery, but of the remnants of a Lincoln Highway bridge like the one in Tama, Iowa!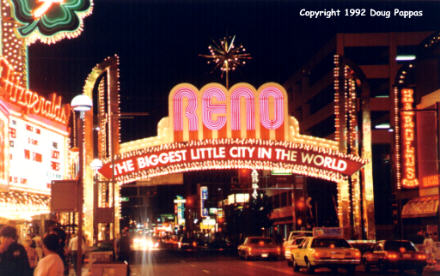 I got to Reno and settled into my motel room, reading and responding to E-mail until it got dark enough to photograph the signs. Then I got a little carried away in Harrah's, losing almost $100 -- but after this summer, what's a bit more debt?
---
Go to the next day
Back to Old Road Trips menu
Back to ROADSIDEPHOTOS.COM home page