Monday, August 31, 1992...
Drove almost nonstop from 8:15 AM on, but still didn't reach my destination before dark. Tomorrow morning I'll retrace the last 20-30 miles of the drive in case I missed something important.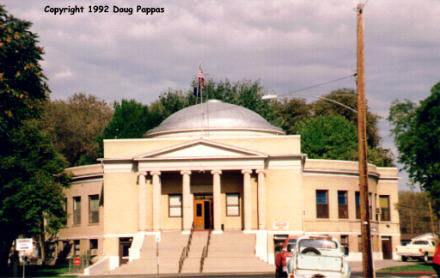 Today brought a collection of landscapes and minor sights, beginning at Sierra Sid's Truck Stop in Sparks, home to "The Guns of Elvis": a collection of Elvis memorabilia purchased from Vernon Presley after his death. After this, of course, almost anything else would be anticlimactic. I stopped in a number of the small towns along the Interstate in Nevada, then detoured in Utah to the Bonneville Salt Flats. Unfortunately, a shower had covered the salt flats, rendering them undrivable though still scenic. I compensated by gunning the engine on the access road, reaching 116 MPH.
Back on I-80, I had to slow down a little, but the flat, straight, sceneless void did little to discourage quick passage. I cleared Salt Lake City, finally freed myself of the Interstate at Park City, and crossed through the Wasatch Mountains, running into pitch darkness by Roosevelt. As I drove, I flipped through the AM radio, picking up stations from Butte and San Antonio...a signature roadside experience largely denied me this summer, with its emphasis on covering ground during daylight. Stopped for the night in Vernal, gateway to dinosaur country.
---
Go to the next day
Back to Old Road Trips menu
Back to ROADSIDEPHOTOS.COM home page