Tuesday, September 1, 1992...
After wasting half an hour looking for a misplaced camcorder battery, I started the new month at the Utah dinosaur museum in Vernal, a well-organized geologic and fossil record of the past several billion years. Vernal's roadside highlight is the pink, long-lashed dinosaur holding the sign to the Motel Dine-a-Ville.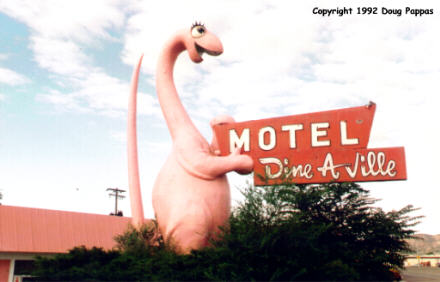 Then came Dinosaur National Monument, which extends across the border into Colorado. The dinosaur fossils are all on the Utah side, many housed in a building erected over the site of a quarry where dinosaur bones have been preserved and highlighted in a cross-section of the land in which they were found. The Colorado side of the park features a 31-mile drive to Harpers Corner, overlooking the confluence of the Green and Yampa Rivers 2,500 feet below.
The little Colorado town which houses the visitor center keeps trying to capitalize on its proximity to the glamorous reptiles. First it renamed itself Dinosaur, then it gave its streets cutesie-poo names like Brontosaurus Boulevard (U.S. 40), Stegosaurus Freeway (SR 64), and Triceratops Terrace. Nothing's helped; it's still a hole. The "Dinosaur Garage" on the east side of town was worth a quick snapshot, though.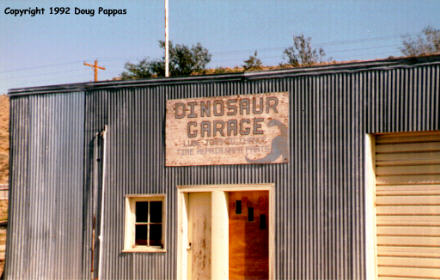 After the dinosaurs, I crossed the high plains of northwestern Colorado before reaching Steamboat Springs and the start of the western Rockies. Over the next 90 minutes I crossed the Continental Divide three times, climaxing at 11,315' Berthoud Pass, though the magnificent views remained mostly hidden by clouds. I rejoined I-70 shortly after 4 PM, then took the most direct route south to Colorado Springs for more socializing with Wendell, his girlfriend Angela and her daughter Dina.
---
Go to the next day
Back to Old Road Trips menu
Back to ROADSIDEPHOTOS.COM home page