Wednesday, September 2, 1992...
On the road by 7:30, when Wendell and Angela left for work. I'd thought about driving to the summit of Mt. Evans again, but when I realized this would cost me at least two hours, decided not to bother. In Denver, US 40 is Colfax Avenue, a main street from Lakewood on the west to Aurora on the east. The western side's got lots of old, cheap motels (including a "Bugs Bunny Motel" I'm willing to bet isn't licensed from Warner Brothers) [in fact, it subsequently changed its name to the "Big Bunny Motel"]; then Colfax passes the Denver Mint and the north side of the state capitol. I stopped to investigate a number of used bookstores and one coin-and-stamp place that also sold postcards, realizing only as I left town that I should've looked up the address of the Tattered Cover, touted as America's best bookstore for new books.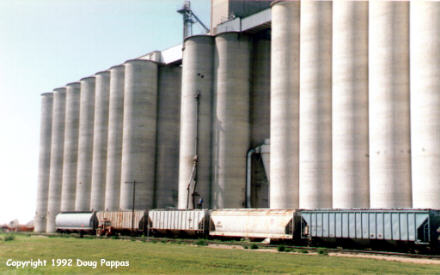 Once out of the Denver suburbs, 40 rejoins I-70 for a dash across the prairies to Limon. At Limon, US 24 and US 40 switch places -- 24 joins the Interstate while 40 veers southeast, then northeast to rejoin the Interstate at Oakley, Kansas. There's not much between Limon and Oakley, but at Oakley I doubled back a few miles on the Interstate for Prairie Dog Town. Since I stopped here four years ago, management has added a four-horned goat to the five-legged cow, six-legged steer and less bizarre animals. So long as the gift shop continues to sell neatly packaged animal dung as "pasture pies" to be mailed to unsuspecting soon-to-be-former friends, the spirit of the roadside will never die.... An extra bonus: the "Free Breakfast Inn" at the interstate junction, with some of the ugliest ornamentation I've ever seen.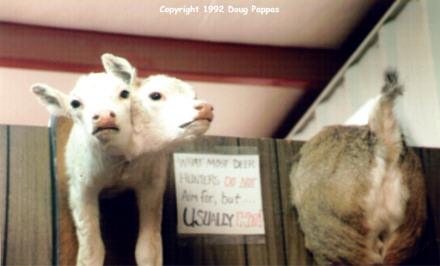 East of Oakley, while US 40 remains officially joined with I-70 all the way to Topeka, the old roadbed can still be driven. In some spots it's being allowed to decay, its pavement cracking and covered with dust, while in others it's been redesignated a state highway. I took a few detours along the old path, spending the night in Salina.
---
Go to the next day
Back to Old Road Trips menu
Back to ROADSIDEPHOTOS.COM home page