Saturday, September 4, 1992...
Got only as far as St. Louis, spending as much time perfecting my delivery of profanity as sightseeing. My modem had died, prompting several detours. A mall in Independence, Missouri turned up nothing, so I decided to look in St. Louis and anywhere promising along the way.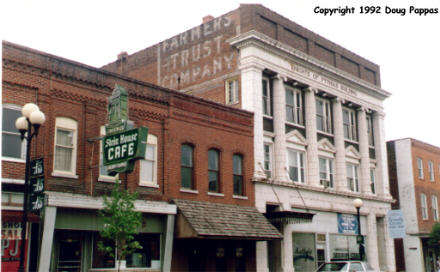 Well, there were no promising sources of modems anywhere along the route. In fact there wasn't much of anything -- a 15-mile detour through Boonville (in which time seemed to have stopped seventy years ago) to Columbia; a few souvenir shops along old US 40, which survived through most of the region as a frontage road; and finally the promise of an "Elvis Is Alive" museum to open soon just west of Wentzville! I'm already planning a return trip through here for next year...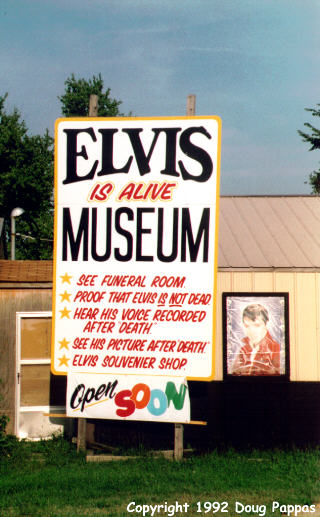 When I reached St. Louis, I switched to Find the Modem Mode. I thought this would be a simple task -- a quick stop in a mall, then find a motel and spend the evening catching up on Email. I stopped at Chesterfield Mall, just west of town: the Radio Shack had only internal modems, and there were no other electronics stores on the premises. Then I turned down Lindbergh Blvd. (US 61), where I'd remembered a number of stores -- nothing. Remembering back even further, I recalled a huge shopping district along old Route 66, which was reached via four miles of local streets. But yes, there was a huge mall! Tried the computer store -- it was the only store in the mall which closed that early. Tried the software store -- no external modems. Tried the Radio Shack -- they had a box, but spent 20 minutes unsuccessfully looking for the modem.
By that time the quest had taken on a life of its own. I would have run over any unfortunate customer standing between me and a modem. Service Merchandise had a modem box, too...but I had to wait 15 minutes before learning that they indeed had an external modem in stock. I checked into a motel on the northwest side of town, plugged it in...and amazingly, was soon online again. Victory!
---
Go to the next day
Back to Old Road Trips menu
Back to ROADSIDEPHOTOS.COM home page