Tuesday, May 25, 1993...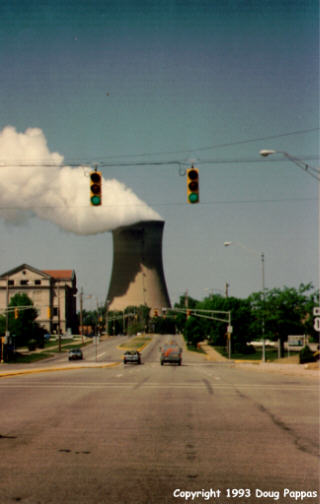 Continued west on US 12 today. After a quick breakfast, the rest of the drive across Michigan passed uneventfully. In Indiana, US 12 is the road closest to Lake Michigan -- the Indiana Dunes as well as a ringside view of the steel mills. The drive's actually quite scenic in spots, but a nuclear-power cooling tower utterly dominates the Michigan City skyline and while the Dunes remain hidden from the road, the mills don't. As the road approaches Illinois, it gets even worse, culminating with the immense and immensely ugly Amoco refinery at Whiting, Indiana.
From there, the next stop was the first Ray Kroc McDonald's in Des Plaines. I had thought it would be closed (my guidebook said the museum was open only Wednesdays and Saturdays), but McDonald's dug deep into the corporate coffers to keep it open Mondays and Tuesdays, too. Visitors can go inside and look at a mockup of the whole operation from behind the counter, look through the McDonald's operations manual, and walk downstairs to the basement for a couple more exhibits and a short propaganda film.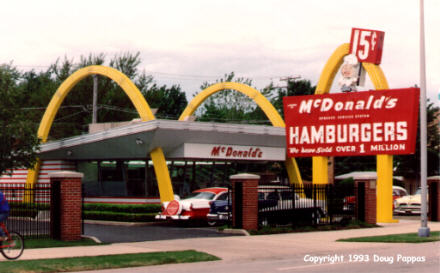 Of course the McDonald brothers receive little mention, and the actual Oldest Surviving McDonald's, in Downey, Caliifornia, gets no press at all... After a brief stop to buy a small screwdriver to fix the mount on my zoom lens, I continued northwest toward Wisconsin.



Most of the Illinois stretch is four-lane divided highway; the Wisconsin pavement alternates between two and four lanes. In one rural stretch the state's apparently talking about expanding it to four lanes, which has outraged the farmers whose land would be condemned. I passed Baraboo too late to visit the circus museum (a shame...I do want to see it someday), continuing on through Lake Delton to the infamous Wisconsin Dells.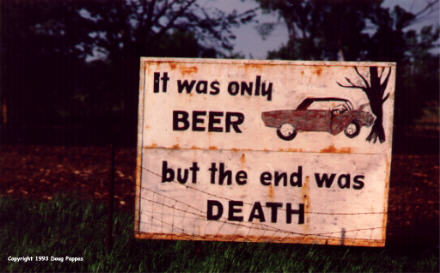 Originally famous for the scenic sandstone formations along the Wisconsin River, the Wisconsin Dells area now contain the highest concentration of tourist traps north of Gatlinburg: Storybook Gardens, Noah's Ark, the Wisconsin Deer Park, Tommy Bartlett's Robot World and Ski, Sky and Stage Show, and many, many more. The Dells can be toured by boat, or on the "Wisconsin Ducks," World War II-vintage amphibious vehicles. But since the Dells' season doesn't really begin until Memorial Day weekend, as the sun sank lower I had an unobstructed drive down deserted streets lined with motels, restaurants and souvenir stands. I continued on to a motel in Tomah, Wisconsin
---
Go to the next day
Back to Old Road Trips menu
Back to ROADSIDEPHOTOS.COM home page