Wednesday, May 26, 1993...
For the first stretch of the day's drive through western Wisconsin, US 12 paralleled both I-94 and the Burlington Northern rail-line which probably established its course. Wisconsin's farmland is pretty, though not up there with Iowa's or southern Minnesota's; nor were there any sights worth noting.
The first stop: St. Paul, where in an interesting juxtaposition the Catholic cathedral sits on the highest point in town, dwarfing the state capitol a mile or so away. I photographed both, also turning off the Interstate for a shot of the "Cretin Avenue" street sign. I've heard it's pronounced CRETT-in instead of CREET-in, but still... US 12 runs with I-94 from just east of the Wisconsin-Minnesota border to the west side of Minneapolis, where 12 joins up with I-394 before branching out on its own. A sign labeled "Home of the Ball of Twine" led me to the next sight.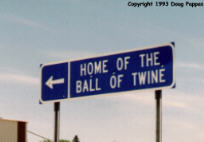 Magnus Johnson served in the U.S. Senate during the 1920s. Nobody remembers him. His son Francis, on the other hand, earned true Roadside immortality just by wrapping pieces of twine for 29 years. He stopped in 1979, having assembled a 10-ton ball nearly 13 feet in diameter. After his death in 1989, Francis Johnson's home town of Darwin, Minnesota (pop. 262) honored its native son by moving the Stupendous String to a wood and glass case in front of the water tower on Darwin's one business street. The adjacent cafe became the Twine Ball Inn, and a storefront across the street displays photos of the big move. Darwin now holds a Twine Ball Days festival every September. Alas, the town opted not to preserve Johnson's other collections, which included 7,000 pencils and 1,700 carpenter's aprons.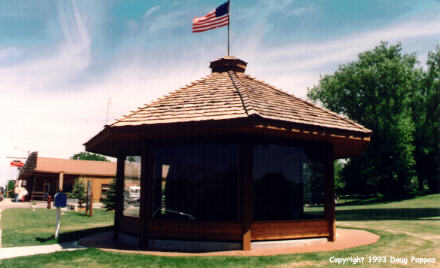 From there west, the one near-constant was the Twins game, which was delayed nearly an hour by rain and then dragged on for over four hours before the Twins won, 12-11. The terrain wasn't quite a constant: it grew steadily drier as I moved west across Minnesota and the first 200 miles of northern South Dakota, changing from farmland to rangeland. I stopped for the night in Mobridge, on the east bank of the Missouri; before turning in, I dashed across the river to see Sitting Bull's grave and the monument to Sacajawea, the Indian woman who served as Lewis & Clark's guide.
---
Go to the next day
Back to Old Road Trips menu
Back to ROADSIDEPHOTOS.COM home page