Thursday, May 27, 1993...
A long day on the road, but I made excellent time. Starting from Mobridge, I reached Helena, Montana, 650 miles away, in just over 13 hours, aided considerably by the near-total absence of any reason to stop along the way. The morning highlight was the Petrified Wood Park in Lemmon, SD. During the Depression, a local amateur geologist filled a square block of downtown Lemmon with over 100 cone-shaped pyramids and piles of "cannonballs," all made from petrified wood found in the region. The Lemmon Chamber of Commerce occupies the adjacent building, which used to be a petrified-wood gas station.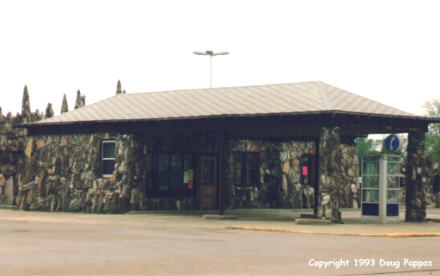 The rest of South Dakota, and most of North Dakota, was undistinguished rangeland. Six or seven miles east of Montana the scenery turned into rugged near-badlands, with heavily eroded buttes and small streams; it stayed that way for the next hundred miles. The morning's other excitement came when I disregarded the "Next Gas: 82 Miles" sign, confident that I could make Miles City without refueling; I did, but when the tank showed Empty 20 miles east of town I began coasting whenever I could. Probably had about 2/10 gallon left when I stopped...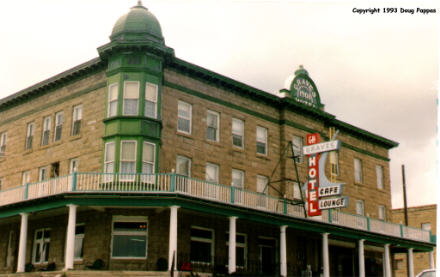 West of Miles City, the road climbs, slowly and gradually, for 200 miles. It's paralleled for over 100 miles by an abandoned railbed -- from the display in front of a locomotive, I'm assuming the railbed belonged to the old electrified Milwaukee Line, on which the last train rolled in 1974. Eventually I reached the mountains, climbing and circling through passes for the final 75 miles to Helena. I arrived in time to check out the (fairly drab) state capitol building and what passes for a downtown before checking in to the motel.
---
Go to the next day
Back to Old Road Trips menu
Back to ROADSIDEPHOTOS.COM home page