Friday, May 28, 1993...
Another long day of driving, but when it ended I was actually ahead of schedule. Helena was cloudy, but the sun came out as soon as I'd crossed the Continental Divide west of town. Forty miles later, US 12 joins the Interstate for the ride into Missoula; this segment was highlighted by a sign at the Rock Creek Ranch, touting its annual September Testicle Festival with the slogan "Have a Ball."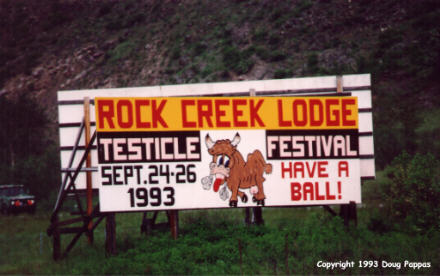 At Missoula, 12 turns west to cross Lolo Pass, the route taken by the Lewis & Clark expedition on their way west. In fact, 12 follows the Lewis & Clark path all the way across Idaho and into Washington, through the twin towns of Lewiston, Idaho and Clarkston, Washington on the Snake River.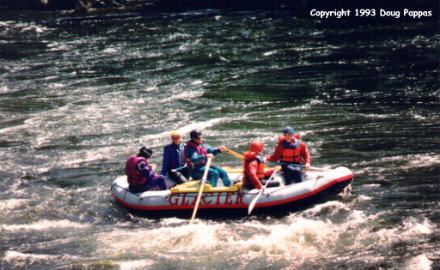 The road was downhill all the way across Idaho, paralleling the Lochsa River for seventy miles, then passing through Coldwater Canyon. I saw some rafters in the river who seemed to be having a wonderful time. One of these days I've got to try that mode of transportation -- the Grand Canyon would be ideal. For the entire 200-plus miles between Missoula and Lewiston, on the western edge of Idaho, there's nothing that could remotely be construed as a town -- only forests and the occasional service station/ranch/campground. In western Idaho the road passes through the Nez Perce Indian reservation, with a number of roadside turnouts presenting the tribe's history and legends at the Nez Perce National Historic Site.
Between the Idaho border and Yakima, US 12 used to be known as US 410. A couple of roadside businesses retain the "410" identifier, and signs of the old road are visible throughout: abandoned highway bridges, graded or gravel surfaces occasionally crossing the pavement, and the Yakima Valley Highway once I passed the Tri-Cities region.
Stopped briefly at the Whitman Mission National Historic Site west of Walla Walla, where a small settlement of Christian missionaries were massacred by Indians in 1847; I would have explored more, but it was pouring rain. The architectural highlight was the Teapot Dome Gas Station, just east of Zillah on the Yakima Valley Highway, erected in 1922 and given that name in 1928; it's now on the National Register. Spent the night in Yakima...
---
Go to the next day
Back to Old Road Trips menu
Back to ROADSIDEPHOTOS.COM home page