Saturday, May 29, 1993...
Driving across Washington, the weather was a helluva lot better than I'd feared. The sun was out for most of the day; when it wasn't, it wasn't hiding too far away. Just hope it lasts...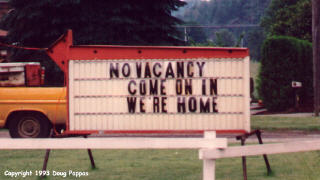 This morning began with a drive across the Cascades on US 12 -- suitably forested, with two nice scenic turnouts, if nothing eye-poppingly spectacular. The road also connects with entrances to Mt. Rainier National Park and Mt. St. Helens National Volcanic Monument, so the scenery's not far away... Eventually 12 joined I-5/US 99 for several dozen miles, before the final sprint to the coast at Aberdeen. 12 ends at the junction with US 101, but a block east, a huge chainsaw carving makes a more noteworthy photo opportunity. One road down, two more to go on this trip...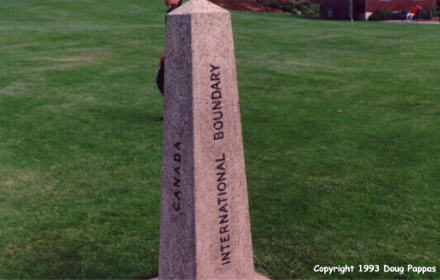 I sprinted up I-5, bound for the Canadian border. The northern terminus of I-5/ US 99 abuts a Peace Arch Park, constructed in the early part of the century as a symbol of international friendship. Most of the money came from schoolchildren, while the inspiration was provided by Sam Hill, the same man who built the Stonehenge war memorial in Maryhill, Washington. Unfortunately the arch itself was shrouded with scaffolding for some kind of repair, but the international park remained about the mellowest border crossing imaginable: a park extending for a hundred or so yards on each side of the border, which could be freely crossed.
Heading south once more, it was apparent that I-5 was built directly on top of some portions of US 99 -- at one point, the southbound lanes traversed a bridge built in 1931, while the northbound lanes passed over a much more modern structure. There wasn't much to see until I reached the I-5/US 99 split in Everett...but from there south the roadside was chock-full of goodies. I checked into my motel and waited for dark to begin exploring.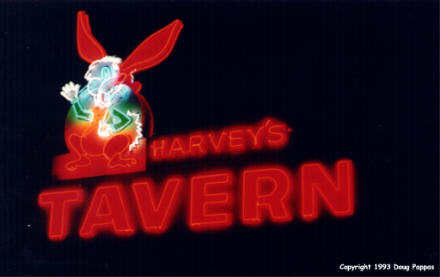 At 9:30, it was finally dark enough for my strip-cruising purposes. I turned south on Aurora Avenue, my eyes peeled for neon signs and other symbols of the classic roadside. In Lynndell, I passed the wonderfully-named Court of Monte Cristo; further south more old-style, postwar motels, cafes, and roadhouses mingled with more modern auto dealerships and strip malls. I followed Aurora Avenue for twenty miles, into the heart of downtown Seattle, before turning back.
---
Go to the next day
Back to Old Road Trips menu
Back to ROADSIDEPHOTOS.COM home page