Sunday, May 30, 1993...
Discovered this morning that Seattle's stretch of old 99 is even more garish during daylight hours. I followed 99 through downtown Seattle, where it briefly goes underground before re-emerging as Alaska Way along the waterfront, then becomes East Marginal Way a bit further south. This time I finally got to see, and photograph, the Hat 'n' Boots gas station on East Marginal Way -- it's on a stretch which has been bypassed by 99, probably because Boeing owns everything on both sides of the road for several miles.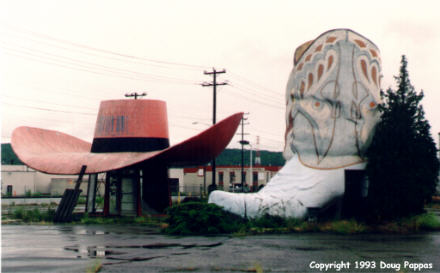 I followed 99 south all the way to Tacoma (as Pacific Highway), made a zigzag as 99 became South Tacoma Avenue, then reverted to Pacific Highway for another multi-mile strip at the south end of town. In fact, old 99 parallels I-5 from Exit 189 in Everett all the way to Exit 124, south of Tacoma, though I wouldn't recommend driving it around rush hour.

Got a nice surprise in Tacoma: Bob's Java Jive has been repainted, with "World Famous Bob's Java Jive" across the facade. There was a small For Sale sign in the window -- don't know if the owner's spruced up his landmark preparatory to selling it, or if he's marketing some other property.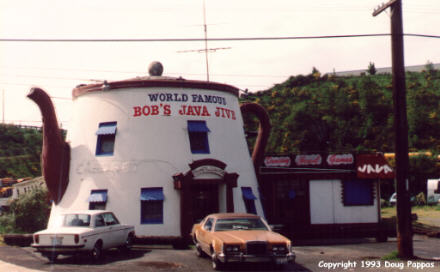 Stopped in Olympia to photograph the state capitol, sculpted out of boring, drab material in an uninspiring style reminiscent of the Hoover-era federal buildings in Washington, D.C. The right-wing loony just north of Chehalis had an anti-Clinton diatribe on his billboard, but he's done better.
So long as I was passing through Portland, I of course stopped at Powell's Books. Among the armful of books I hauled out an hour later were three more WPA Guides, from Mississippi, Rhode Island and Wyoming. 99 splits into eastern and western strips here -- and, alas, 99E's main roadside highlight had been transformed. Milwaukie's Bomber Gas was no more! The plane's still mounted where it had been, but the gas pumps were gone and a new restaurant, using the bomber as its symbol, had been erected towards the back of the property.
Reached my motel around 6:30 and settled in for the night...
---
Go to the next day
Back to Old Road Trips menu
Back to ROADSIDEPHOTOS.COM home page