Monday, May 31, 1993...
A late start and a late finish for the day. This morning I drove around Portland for an hour, following Route 99W south to near downtown (it begins as Interstate Avenue, though unmarked -- the aged motels that line it in many stretches serve as the giveaway), then photographing the small Church of Elvis art-gallery exhibit before returning to 99E for the drive south. I caught up to it again in Oregon City, first incorporated city west of the Mississippi and official End of the Oregon Trail, then followed it south to Salem, the capital. Throughout northern Oregon, 99E maintained a separate, two-lane identity; further south, though, it hopped on and off the Interstate as a business route or frontage road.
The Oregon State Capitol was a bit different: an Art Deco structure topped with a gilded statue that belonged on a more classical design, fronting a mall with nondescript "monumental" state office buildings on all sides. From there, I followed the road past the University of Oregon and down to Grants Pass, where it branched off as the Rogue River Highway and stayed separate right through Ashland.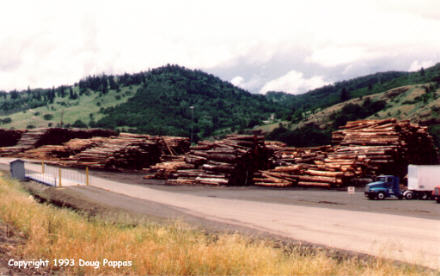 At Gold Hill, I couldn't resist a detour to the Oregon Vortex, granddaddy of all "mystery spots" -- and flaunting its primacy with a sign warning customers to beware of the imitators that have sprung up. The Vortex at least wins a prize for isolation (it's 4-1/2 miles off the main road) and relative lack of commercialism (one crazy-angled building, a few outdoor exhibits, small souvenir area), though some of the pseudoscientific nonsense advanced by the college-age girl conducting the tour nearly made me choke.
She claimed, for instance, that the Vortex's mystical effect on perspective and gravity had been measured at 45,000 feet, as though a plane would know when it was passing over that precise spot; that the original developer of the place conducted over 14,000 experiments (unless "experiment" is defined as "showing off to another tour group"); and that an Einsteinian theory about mass compressing as it approaches the magnetic poles could account for what we saw! For hokum, though, it was well-done: people did appear to change heights as they moved from one side of a given area to another, and the odd angles inside the "mystery house" on the site -- claimed to be a 100-year-old miners' cabin that "settled" in that position, despite the newer nails and no signs of the bent or rotted timbers that "settling" would've caused -- made it impossible to rely on ordinary perceptions.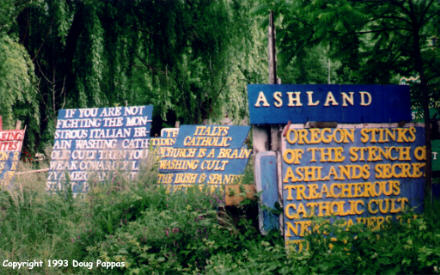 Continuing south, some of the views in southern Oregon and northern California were too good not to photograph. But I'm not putting them here...watch for them as part of the US 99 tour, which I'll be driving soon.It had rained most of the afternoon despite the day's relative brightness, but as I approached Mount Shasta I saw that the rain had left a gorgeous rainbow in front of the mountain. I also photographed Lake Shasta and doubled back in Redding for the Giant Orange Cafe on a frontage road. Got to my motel in Redding just as the sun was setting...
---
Go to the next day
Back to Old Road Trips menu
Back to ROADSIDEPHOTOS.COM home page