Tuesday, June 1, 1993...
Redding marks the transition in central California topography. North of here it's hilly and scenic; to the south, the Central Valley is...neither. I spent the day driving down the Main Streets of central California. My first stop was the Old Sacramento historic/restored area, specifically the California State Railroad Museum within.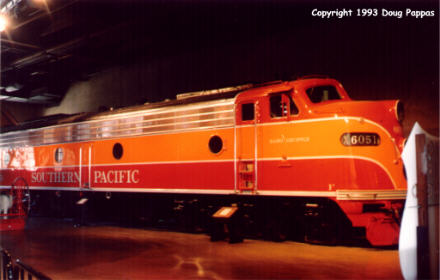 The Museum's a worthy rival to the B & O Museum in Baltimore -- newer and flashier, with a big collection, but doesn't do as good a job of presenting the history. The slide show and introductory film can safely be skipped in favor of wandering through the collection of nearly two dozen railcars, including a locomotive, mail car and sleeping car that can be toured. The admission also gets one into the nearby restored Central Pacific depot, with more exhibits; there's also a large library devoted entirely to railroad history, with an attached gift/bookshop that has the largest collection of railroad publications I've ever seen. Elsewhere, Old Sacramento presents the standard gentrified historic-district combination: old buildings given a face-lift, now housing modern, often trendy, businesses.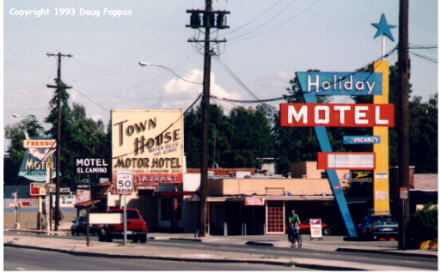 Then it was back to old 99, which presented a new style of old road. Most of it had been enlarged and modified at least once, with the older road often called the Golden State Boulevard. Outside of the cities, the median divider was always covered with bright, small-pastel-flowered bushes, and most of the city bypasses took the same form, with the bypass veering off to the side away from the railroad tracks as the business route follows them.



Though I easily could have continued down to Bakersfield, I stopped in Tulare, an hour north, so tomorrow could begin with a quick dash for Sequoia/Kings Canyon.
---
Go to the next day
Back to Old Road Trips menu
Back to ROADSIDEPHOTOS.COM home page