Wednesday, June 2, 1993...
Hard to believe, but I found yet another thing to dislike about L.A.: its continuing sprawl has eradicated some of the best local commercial archeology, even from sites where it existed as of five years ago! The Brown Derby on Wilshire is now preserved inside an office building, the camera store with protruding "lens" further down the block is the office building now housing Variety. Even out in the far suburbs, the Mount Baldy Inn and tamale-shaped tamale stand along Whittier Blvd. in Pico Rivera have been bulldozed. The oldest surviving McDonald's remains in Downey, but it's due to close sometime this summer. [It lives!]And on top of everything else, I spent so much time searching in vain for these sights that I got caught in the evening rush hour, which kept traffic bumper-to-bumper on I-10 for at least thirty miles east, past Pomona.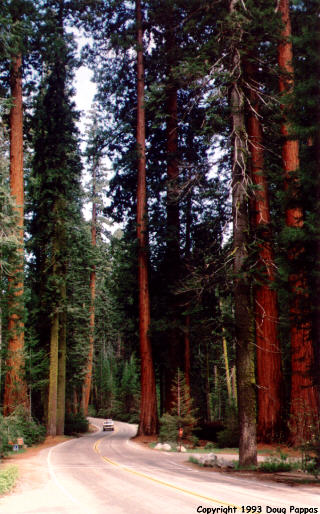 Good thing the day had started on a better note. I was on the road at 6:30 for a quick trip to Sequoia National Park: got there in an hour; spent two-plus hours driving and walking around; hiked to Moro Rock for a sweeping panoramic view; drove to the General Sherman Tree, world's largest; and visited sequoias that could be driven on and through. Then I backtracked to old 99 for the drive south, stopping in Bakersfield to photograph the shoe-shaped Deschwanden's Shoe Repair.
South of Bakersfield, 99 rejoined I-5 for the assault on the Los Angeles basin. In the San Fernando Valley, I turned east to visit the Forest Lawn Cemetery in Glendale, America's finest theme park for the dead. After passing signs advertising that one call to Forest Lawn can arrange for everything from embalming to flowers, the visitor is presented with a sign directing visitors to the sculptures and statuary within, while simultaneously cautioning them to act respectful amidst the thousands of corpses. No messy ol' headstones to remind passersby of their own mortality, either -- at Forest Lawn, almost everyone is commemorated by a simple plaque set into the ground, where it doesn't detract from the view.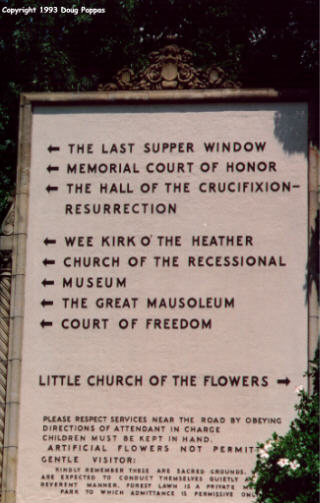 This branch of Southern California's largest processor of dead people features a reproduction of Michelangelo's David; the other copy of the John Quincy Adams Ward sculpture of George Washington that stands at New York's Federal Hall; and a mosaic of John Trumbull's painting of the signing of the Declaration of Independence! Also several "quaint chapels" and a huge chapel/church/museum at the top of a hill, one part of which contains a large religious-themed painting for which they want a $1 contribution to see. Looking off from the cemetery, one is rewarded with striking views of overbuilt Glendale and Burbank for as far as the eye can see through the omnipresent haze.
After Forest Lawn, I embarked on my unsuccessful two-hour hunt for Los Angeles roadside icons before turning east -- stopped for the night in Banning, 20 miles east of San Bernardino on the route of old 99.
---
Go to the next day
Back to Old Road Trips menu
Back to ROADSIDEPHOTOS.COM home page